Mele Kalikimaka, the Hawaiian Way
My favorite memories of Christmas in Hawaii
By Cara Fasone
Although we never have white Christmases and it's too warm for ugly sweater parties, Christmas in Hawaii has its own unique traditions.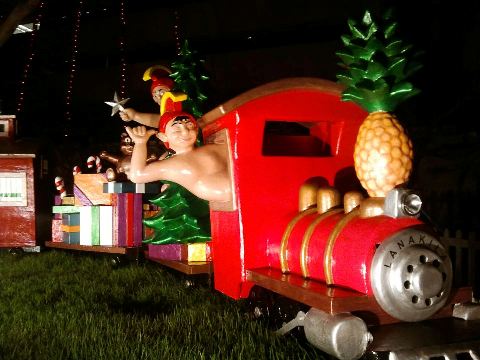 Menehune elves at the Honolulu City Lights event
Photo by Cara Fasone

Hawaiian Host Chocolates
I knew it was Christmastime at my house when my Aunty Annie would stock up on boxes of Hawaiian Host macadamia nut chocolates. She would wrap each box so perfectly and proudly show off the homemade bows she made out of ribbons. The adults in our family knew exactly what they would get from us because we got them the same thing every year, even the mailman knew to expect his box of double-layered chocolates. 
Beer for the Garbage Men
The only guy who didn't get Hawaiian Host was the garbage man; he got beer. I always thought this holiday tradition was very funny and uniquely Hawaiian. This token of appreciation most likely came from the stereotype that blue collar workers like to suck 'em up after a long day of manual labor.
One year the city and county banned garbage men from accepting beer on the job, so their wives would follow the trash trucks in their personal car and collect the cases of booze. My grandma would chase them down making sure they got their Budweiser.

Hawaiian Christmas Songs
Christmas carols always got us in the spirit. Besides the famous Mele Kalikimaka, in elementary school we sang the Hawaiian version of the 12 Days of Christmas. Instead of "a partridge in a pear tree," we sang "one mynah bird in one papaya tree."
At home my grandma would watch (she still does) OC 16, a local cable channel, because they played Christmas classics sung by local artists like Forte and Na Leo Pilimehana. She would watch this until it was time for her ring the Salvation Army bell in front of Longs.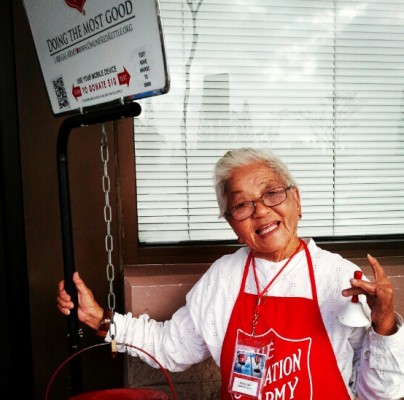 My grandma ringing the bell for the Salvation Army
Photo by Cara Fasone

Hoilday Grindz
My dad's side of the family always has huge potlucks with friends, family, and extended family. There are no chestnuts roasting on an open fire, but we got the oysters on the grill and bunch of other grindz to make up for it.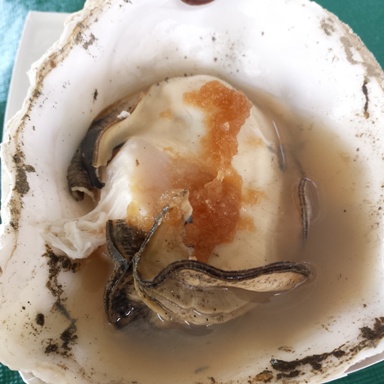 Oysters on the grill with daikon (radish) sauce means party time
Photo by Cara Fasone

Like most families in Hawaii, we come from a mixed background, so not only do we have the traditional pineapple ham and turkey, we also have local kine grinds like poke, teriyaki beef, fried noodles, and shrimp tempura. Only in Hawaii will you find this kind of multi-cultural holiday feast!
It's a mixed-plate on Christmas Day at most Hawaii parties
Photo by Cara Fasone

The Ala Moana Center Santa
Every year we captured the holiday with a picture with the Santa at Ala Moana Shopping Center. I have at least 5 different pictures with the old man in the photo below, he's pretty much family! I've been seeing throwback pictures on Instagram of my friends with this same St. Nick; I guess a lot of us local kids from the 80s and 90s remember him.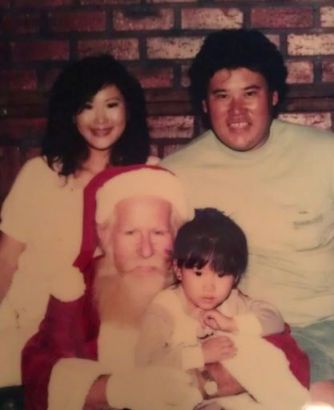 One of my many photos with the Ala Moana Center Santa Claus
Photo courtesy of Cara Fasone

Honolulu City Lights
It was also tradition for my family to go downtown to see the Honolulu City Lights. Every year there is a giant Christmas tree in front of City Hall with a different Hawaiian theme. Inside, the trees and wreaths are decorated with anything from Spam Musubi to rubbah slippah ornaments.

Shave Ice and Spam Musubi Christmas Tree
Photo by Cara Fasone

Although Santa doesn't come down a chimney to deliver our presents and we don't have any snowmen, Christmas in Hawaii is still a great time.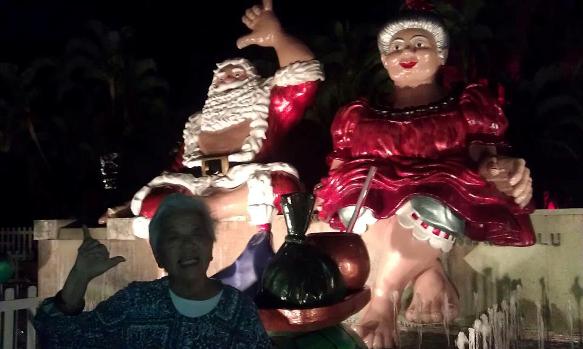 In Hawaii, Santa and Mrs. Claus don't need boots, barefoot is ok!
Photo by Cara Fasone

What are your favorite memories of Christmas in Hawaii?
Related Articles
May Day in Hawaii, a Cultural and Historical Celebration

---
Return to the top of "Mele Kalikimaka, the Hawaiian Way"
Return to the "Island Traditions" page