Hawaiian Candy Lei Tutorial

How to make candy leis using polytube or cellophane
By Cara Fasone

Giving someone a lei is a symbol of Aloha and a gift synonymous with Hawaii. Although flower leis are beautiful and smell great, candy leis are colorful, creative, and edible! They also transport well to friends and family on the mainland.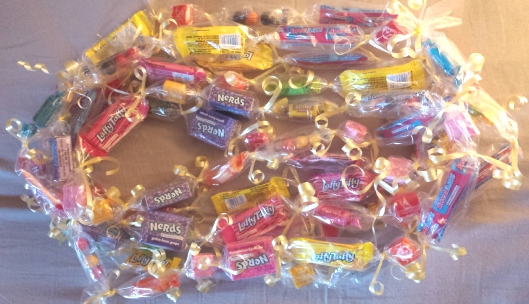 My colorful and festive candy leis
Photo by Cara Fasone

Making your own Hawaiian candy leis is easy. If you are in the islands, you can use poly tube or netting which can be purchased at Longs, Walmart, Ben Franklin, etc. Each 12 Ft package makes about 3 leis. If you can't get a hold of poly tube, no worries, you can use cellophane.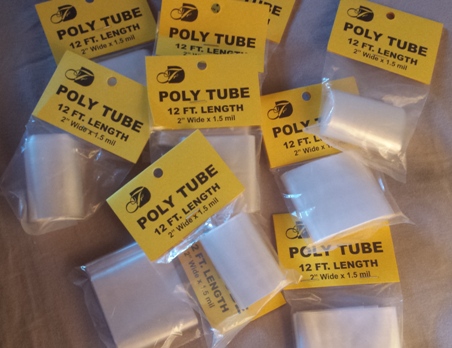 These poly tube packages were on sale for 99 cents each at Longs
Photo by Cara Fasone

Things You Need:
Cellophane (cut two pieces, 6 inches wide and 25 inches long)

Curling Ribbon (cut into 6 inch strips, you need approximately 16 pieces per lei)

Candy (no chocolate, it might melt... Nerds, Starburst, Laffy Taffy, etc.)

Scissors
Ruler
Directions:

Candy Lei YouTube Tutorial
Hosted by Cara Fasone

When making candy leis with cellophane it is better to use small candy that is not bulky. You can get creative with it and personalize your lei for the person. I once saw a graduation lei made with Nerds and Smartees, very clever! Goldfish crackers for pre-school graduation is also a cute idea!
If you find the lei netting which I pointed out in the video, you can make adult leis, with mini liquor bottles or even golf balls for a retirement party. Have fun with it!

What is your favorite candy for making leis?

Related Articles
The Tradition of Hawaiian Leis
---
Return to the"Island Traditions"page

Back to the Hawaiian-Culture-Stories.com Home Page