The Tradition of Hawaiian Leis

Hawaiian Leis are given to honor chiefs and congratulate high school graduates
By M. Keala Milles, Jr.

Imagine you are on your way to Hawaii, fresh off the plane at Honolulu International Airport, a sun-kissed local is there to take your luggage and greet you with an "Aloha," a lei,  maybe even a kiss on the cheek.  This is a tradition many tourists envision when they think Hawaiian vacation, but the custom of greeting with Hawaiian Leis comes from the ancient Hawaiians.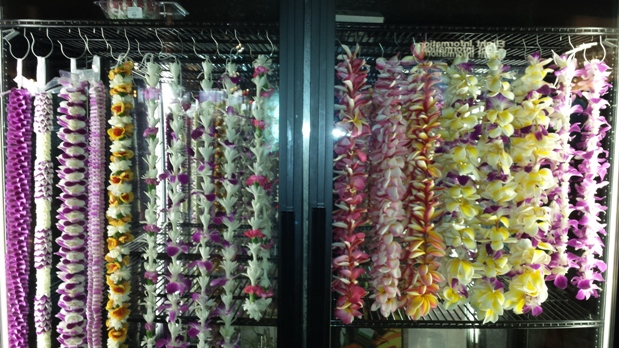 Fresh flower leis at the Honolulu International Airport
Photo by Cara Fasone

History of Leis

Hawaiian leis or flower garlands most often decorate an honoree celebrating a special event. In ancient Hawaii, they might be reserved for special people (like an elder or a kahuna) or to honor and welcome a guest. Early Hawaiians reserved some leis specifically for adorning the Ali'i, the chiefs of the time, who wore them during religious ceremonies.
Graduation Leis
These days Hawaiian leis are made and given to celebrate a wide variety of special occasions; one big event in particular are graduations. Leis at high school and college graduations are just as traditional as the cap and gown. After they march and receive their diploma, graduates will stand in their section (separated by their last initial) and wait for family and friends to greet them with a lei. Today leis are not just made of flowers, but candy, money and even pool floatees.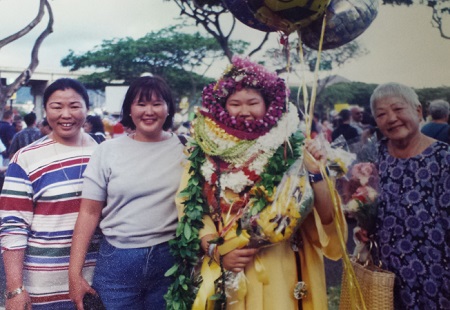 HCS writer, Cara, at her Mililani High School Graduation in 2000
Photo courtesy of Cara Fasone

Hawaiian leis are given out to celebrate, honor, mourn and welcome; they are commonly dedicated to:
Love

Grief

Weddings

Funeral Services

Birthdays

Political purposes

Community development

Social engagements


Farming hopes

Religious observances

Kukui nut leis
Photo by M. Keala Milles, Jr.

Real or fake, leis are given with aloha
Photo by M. Keala Milles, Jr.

No matter what kind of lei or what the occasion, Hawaiian leis are are a symbol of aloha and are given with love.
What kind of leis are your favorite?

Related Articles
May Day in Hawaii, a Cultural and Historical Celebration
---

Return to the top of "The Tradition of Hawaiian Leis"
Return to the "Island Traditions" page

Back to the Hawaiian-Culture-Stories.com Home Page