Remembrance Lanterns Light Up the Sea at Magic Island's Lantern Floating Ceremony
A breathtaking Memorial Day celebration honoring those who've passed
By Cara Fasone
This Memorial Day, I attended my first Lantern Floating Hawaii ceremony. Although each lantern was lit to remember someone who has passed away, the event was one of the most beautiful and hopeful experiences I've witnessed.

Thousands of lanterns light up the water
Photo by Cara Fasone

Until this year, I'd only seen images of lantern floating on TV. I've always wanted to experience the ceremony in person and so did an estimated 50,000 other Hawaiian locals according to the local news. I knew it be crazy crowded and parking impossible, but this event was on my bucket list, so I had to attend.
Families picnicked from the early morning and spent the entire day at the beach. I saw groups of people barbecuing and lounging under tents with banners and pictures of their passed loved ones. It was good to see so many people celebrating Memorial Day together.
History of Lantern Floating
Lantern Floating or toro nagashi originated in Japan as part of the Buddhist Bon Festival, which honors the dead. Like the Bon Dance in Hawaii, Lantern Floating is now a non-denominational celebration where Hawaiian locals from every background come together to remember the departed.
In Hawaii, the ceremony is a mixture of Japanese and Hawaiian tradition. There were hula and taiko drum performances, as well as, blessings from, Shinso Ito, the head of Shinnyo-en Buddhism and the host of the event. No matter where you were on the beach, you could see what was happening on the stage from one of the giant screens set up along Magic Island.
The Light of Harmony lit by community leaders
Photo by Cara Fasone
Thousands of Paper Lanterns
The line to request a paper lantern was two hours long, so I decided to skip it and just watch. While we waited for the ceremony to begin at sundown, I observed the people in the crowd. Some of them were somber, but most happy to be a part of the unique occasion. Their lanterns were personalized with messages, pictures and even leis. I enjoyed reading the messages as I waited.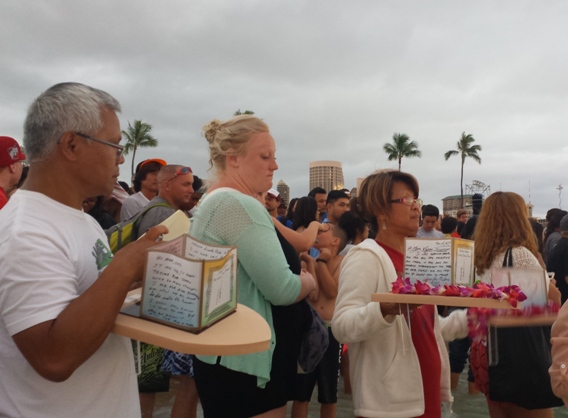 Family members personalized their lanterns with messages
Photo by Cara Fasone
When the sun set, one after the other people started letting their lanterns go, before I knew it the water was full of glowing lanterns. It was truly a breathtaking experience. Lantern Floating honors the dead and also brings people together in the spirit of harmony, friendship and aloha. If you haven't experienced this ceremony in person, I would add it your bucket list!
The Lantern Floating Hawaii ceremony takes place every Memorial Day at Magic Island. For more information visit Lantern Floating Hawaii.

Related Articles
---
Return to the top of "Magic Island's Lantern Floating Ceremony"
Return to the "Island Traditions" Page