Downtown Las Vegas, the Ninth Island

Vacations Hawaii Las Vegas charter tours to downtown Vegas are a tradition for many Hawaiian locals
By Cara Fasone

Hawaii is one of the top vacation destinations in the world, with sunshine and beautiful beaches, it is paradise. But what the islands lack is the glitter and gambling of fabulous Las Vegas.
Old School Vegas

Hawaiian locals consider Las Vegas, specifically downtown Vegas, their 9th Island.  Whether its for a family or high school reunion, vacation packages to downtown Vegas are a tradition for islanders. Although it may not be as exciting as the larger than life Vegas strip, downtown Vegas, the rat packs' old stomping ground, is where Hawaiian locals call a home away from home. 

Aloha thrives at the California Hotel
Photo by Cara Fasone
Vacations Hawaii

Twice a year, since before I can remember, my family booked trips with Vacations Hawaii Las Vegas tours (back then it was called Jackie's Travels.)  The packages did not send us to the sparkle of the Vegas Strip, but to the old school Vegas on Fremont Street where Sam Boyd's hotels—the California, Fremont, and Main Street Station—cater to their Hawaiian clientele.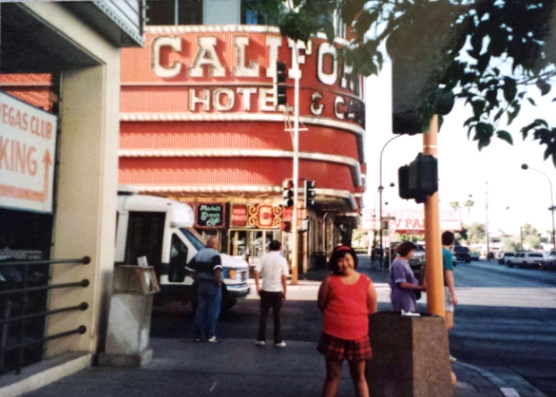 Outside the Cal (1992)
Photo courtesy of Cara Fasone

The 9th Island

Now that I live only a four-hour drive away, I take long car rides to Vegas, and I always stop at the California hotel for a slice of home. With signs that say "Aloha Spoken Here," and slot machines named, "Pau Hana Poker," I know I'm on the 9th Island. I've been staying at the Cal since small kid time, so it's very nostalgic for me, lots of memories there. Also I get to see mixed faces and hear pidgin accents, I almost forget where I am. 

Hawaiian-style slot machines at the Cal
Photo by Cara Fasone
If you're not from Hawaii, you probably won't understand why a 30-something-year-old would want to hang at the Cal, which is like a Hawaiian version of the movie Cocoon. But I enjoy the familiarity of downtown and seeing the old Hawaiian folk gambling with their wheel chairs and sometimes even oxygen tanks. They go!

Local Kine Grindz

Let's not forget their Market Street Café serves Butterfish and Oxtail Soup among other local favorites (Vacations Hawaii Las Vegas packages include restaurant coupons for selected Boyd restaurants!)  Upstairs they have the Aloha Specialties restaurant for plate lunch style grinds. Across the street at the Las Vegas Club, Las Vegas Jerky sells a variety of omiyage (souvenirs) including bagel chips, mango and pineapple gummy bears, and a variety of island-style jerky.

Oxtail Soup only available 11 PM to 9 AM, a Market Street Café "Graveyard Special"
Photo by Cara Fasone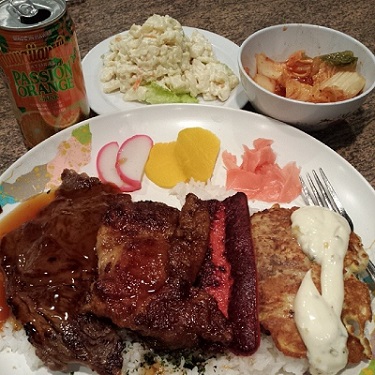 "Aloha Bento Plate" at the Aloha Specialties Restaurant in Las Vegas
Photo by Cara Fasone
Glitz and Gambling

But what Vegas is really about is the gambling. I've been brainwashed since childhood (Vacations Hawaii Las Vegas regulars are mailed a magazine with pictures of all the Hawaii winners) that I will win if I play at a Sam Boyd hotel. I won 1,000 quarters on the Wheel of Fortune (my aunty's favorite machine) on my last visit. It could be a coincidence or because I remembered all the little traditions I've picked up since I was a kid.

I always make sure to rub the belly of the giant Buddha adorned with Maile leis and shooting a shaka sign in the lobby like my grandma. I carry with me my aunty's old Boyd Hotel Player's card and her lucky frogs. When I play blackjack, I play single deck, double down on eleven, and always balato (share) the wealth with the dealer; my mom's lessons.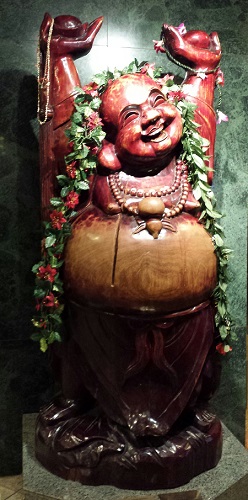 Shaka Buddha at the Cal
Photo by Cara Fasone
The Vegas strip is fun, but fickle; casinos get torn down for newer and grander resorts every year. Downtown Vegas hasn't changed much and I go for the flashbacks and the legit saimin. Lucky we live Hawaii as it goes but when you can't, the 9th Island is just a road trip away!
What are your favorite memories of Vegas?

Related Articles
The Manapua Man, Hawaii's Ice Cream Truck
Hawaiian Creole Engish, a Mixed-plate Language
May Day in Hawaii, a Cultural and Historical Celebration

---
Return to the top of "Las Vegas "
Return to the "Island Traditions " Page