Chicken Long Rice:  Hawaii's Chicken Noodle Soup

Both a luau staple and a home remedy for the sick, Chicken Long Rice is a favorite in the islands
By M. Keala Milles, Jr.

Chicken long rice is among the most popular Hawaiian chicken recipes. Although it is a Hawaiian party staple (I enjoy it at our Hawaiian Thanksgiving dinner), the dish is also perfect on a rainy or sick day at home.

This is a classic Hawaiian chicken recipe, but most likely originated in Asia. Similar to Chicken Hekka, a soupy chicken and noodle dish from Japan, Chicken Long Rice's key ingredients are chicken, ginger, garlic, green onion and long rice or Chinese cellophane noodles.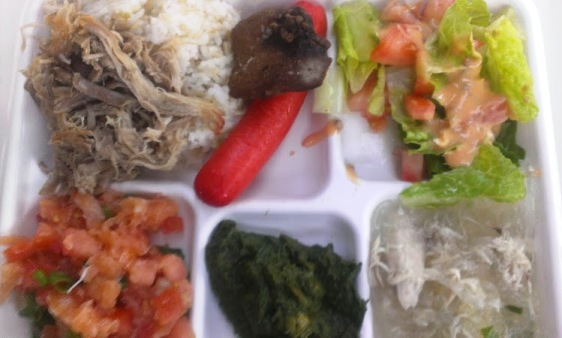 Chicken Long Rice (bottom, right corner) is a fave at any Hawaiian celebration
Photo by M. Keala Milles, Jr.

My big pot of Chicken Long Rice
Photo by  M. Keala Milles, Jr.


Hawaiian Home Remedy


Depending on how brothy you make it, Chicken Long Rice can be a soup. Just like the American classic, Chicken Noodle Soup,  it is also great for sick kids staying home from school.
Cooking with Keala


There are many different ways to prepare chicken long rice. You can marinate the chicken ahead of time or even precook the chicken if you want, just as long as the key ingredients have time to boil and blend. Some people add mushrooms and even a little sugar or pepper—to taste, of course.

I like lots of ginger in my Chicken Long Rice
Photo Contributed by M. Keala Milles, Jr.

Chicken Long Rice Recipe

The Ingredients:

3lbs of Chicken breast (cubed) or parboiled chicken (shredded)

1 package of cellophane noodles
8 oz. chicken broth
2-3 stalks of green onion (diced)

1 round onion (diced)
lots of ginger (big slices, these are just for taste, you can pick them out later)
3 cloves garlic (minced)
2 T vegetable oil

salt and pepper to taste
soy sauce (optional)





Directions:

Soak noodles in warm water for about 30 minutes




Heat oil in a large pot and brown chicken

Add onions, garlic, and ginger to the pot

Pour chicken broth to cover, you can add more if you want it soupy




Bring to a boil




Add in noodles and simmer until soft

Add salt and pepper to taste



Whether cooking for a special occasion or to mend a cold, Chicken Long Rice is tasty and easy Hawaiian Chicken Recipe.
What do you add to your version of Chicken Long Rice?

Related Articles
Loco Moco:  the Plate Lunch Ambassador of Hawaii

Hawaiian-style Furikake Chex Mix Recipe

---
Return to the top of "Chicken Long Rice: Hawaii's Chicken Noodle Soup"
Return to the "Local Kine Grindz" Page