Loco Moco: The Plate Lunch Ambassador of Hawaii
Loco Moco is simple, hearty, and very Hawaiian soul food
By  M. Keala Milles, Jr.
The Loco Moco is the plate lunch ambassador of Hawaii. Just like, the Spam Musubi, the Loco Moco is not only a regional favorite, but has made its way to the bellies of foodies around the world.  The breakfast (anytime) plate lunch is reflective of Hawaii's simple, but stick-to-your-ribs modern cuisine.
Like most Hawaiian dishes, Loco Moco consists of just a few ingredients:  rice covered with two hamburger patties, submerged with brown gravy, and topped with over-easy eggs. This plate lunch is sometimes served with grilled onions and almost always with some macaroni salad.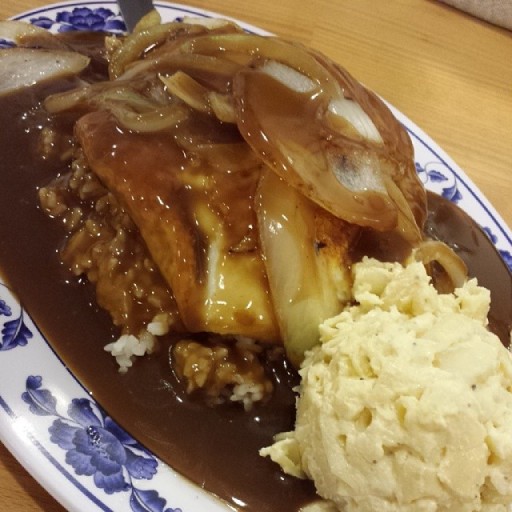 This Loco Moco looks ono!
Photo By Cara Fasone
History of the Loco Moco
One of the most interesting facts about the Loco Moco is that its origins are a bit of a mystery.  Some people say that it was first developed at the Lincoln Grill, while others hold it was first served at May's Fountain.  Nobody knows for sure at what restaurant this dish first came onto the scene, but most people agree that it was invented in Hilo, on the Big Island of Hawaii, in the 1940s.
Legend has it that a group of locals went to their favorite restaurant in Hilo and asked for a cheap breakfast to be made with hamburger, rice, gravy and fried eggs. These ingredients are now known simply as the "Loco Moco."

Loco Moco Recipe
All you really need to know about this dish are the key ingredients and you can make it yourself at home anytime you need a little island getaway! I don't have an exact Loco Moco recipe, but there is no wrong way to make a Loco Moco! Its simple and affordable ingredients can be found anywhere, probably why the Loco Moco is popular all over the globe.
You can make homemade ground beef patties with your favorite recipe or use store-bought hamburgers. If you don't have that, you can substitute Spam, Portuguese Sausage, maybe even Chicken Katsu. Homemade brown gravy is always the best, but again you can use a packet, gravy in a can or jar, how about Zippy's Chili? I would add some grilled Maui onions for some island flair.
There are many variations of the Loco Moco recipe, but in my opinion the eggs should always be a little runny. Making for the perfect Instagram #yolkporn picture, the eggs are best cooked sunny-side up or over easy. Nothing beats, busting the egg yolk and have it drizzle over your gravy and rice.
Gravy All Over

Don't forget to ask for, "gravy all over." The local catchphrase means you want gravy all over everything, the rice, the mac salad, everything! Brown gravy makes everything warm and cozy.
Whether you order it in a local diner or your tutu makes it for you, it is all the same when it comes to this local comfort food. Loco Moco is perfect for a rainy or cold day. It is also a good hangover cure and one of my favorite breakfast dishes.
How do you like your Loco Moco?
Related Articles
Spam Meat:  Hawaii's Comfort Food
Chicken Long Rice:  Hawaii's Chicken Noodle Soup

---
Return to the top of "Loco Moco: the Plate Lunch Ambassador of Hawaii"
Return to the "Local Kine Grindz" Page