Hawaiian Poke for Pupu and More

In a bowl, on top of sushi, or deep-fried, poke is more than just a pupu 
By Cara Fasone

Poke (pronounced po-ke) is the traditional pau hana (after work) snack; it's perfect with beer and just enough to not spoil your dinner. Although Hawaiian poke has been around for decades, new mixes have made the pupu favorite a meal.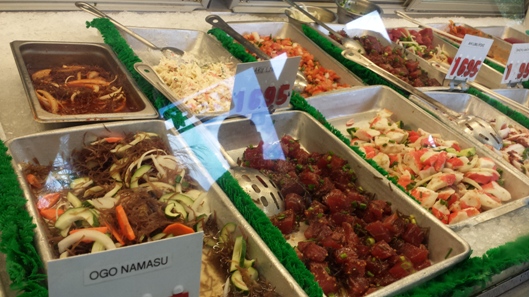 Hawaiian po-ke selection at Monarch Seafoods in Kalihi
Photo By Cara Fasone

Poke has changed over the years. In ancient Hawaii it was made with just cubed raw fish, sea salt, limu (seaweed) and inamona (roasted and crushed kukui or candlenut).  New flavors were created when foreign ingredients like soy sauce and onions were brought to Hawaii.

The textures and flavors in poke are like nothing I've ever eaten before. The cold chunks of raw fish can be tender or firm depending on the fish, but not flaky like cooked fish. With shoyu and sesame oil, it is tastier than the subtle sashimi.
California Roll poke, Avocado poke, and Spicy Ahi poke from Foodland
Photo by Cara Fasone


Endless Combinations

With today's foodie culture, the Hawaiian poke variations and combinations are endless. One of my favorites is the California Roll poke at Foodland, an island grocery store chain. Their California-style spin is shoyu poke topped with imitation crab and mayonnaise, yum!

Another must-try is "Da Sweetie" at Umeke's in Kona on the Big Island; they add furikake (seaweed flakes and sesame seeds) to their marinade. Their "Avo Poke" mixed with creamy avocado is also mind blowing.
Poke Bowls

Umeke's means bowl in Hawaiian, all their entrees including their poke are served with scoops of rice in a bowl. Hawaiian poke, the pupu favorite, is now a lunchtime meal.

The "poke bowl" is a fairly new trend in Hawaii. All over Oahu as well, lunch spots serve poke in a bowl with rice. My friend took me to Paina Café for a poke crunch bowl, which was topped with tempura flakes. 

Umeke's in Kailua-Kona on the Big Island
Photo by Cara Fasone

Spicy Ahi poke bomb at Genki Sushi
Photo By Cara Fasone


Bombs Away

"Poke bombs", poke on top of inarizushi (rice in a fried tofu pouch), are also served at sushi restaurants all over Hawaii. On my recent visit home, I went out for sushi at Genki Sushi in Waikele. I ordered my Spicy Ahi Bomb on a touch screen computer and my sushi came bulleting out on a racecar.
An Acquired Taste

Hawaiian poke is one of my favorite foods of all time; I'm drooling writing this blog. This wasn't always the case, I never touched poke for years! I'd watch my family and friends chomp on it, but although I liked the flavor, I couldn't get over the texture. It felt squishy in my mouth and tasted like a fishy tomato.
It wasn't until I  had an Asian-inspired version of tuna tartare at a sushi restaurant that I began to enjoy raw fish. I got over the texture because the flavors were amazing. Crazy as it sounds, there are people who don't like raw fish, so they can't eat poke.
Poke for Everyone

Fear not, raw fish haters, my cousin Lisa recently introduced me to a plate lunch spot called Monarch's that serves a fried poke plate. The cubes of marinated fish are battered and deep-fried, da bugga ono! Also anywhere you can get poke, they also offer non-fish options including pipikaula (Hawaiian dried beef) poke and edamame (soybean) poke.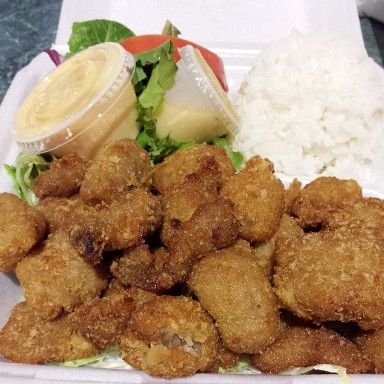 Fried poke plate from Monarch Seafood
Photo by Cara Fasone

Whether I'm picking on it with chopsticks, eating it with rice from a bowl, or shoving an entire bomb in my mouth, I'm a huge poke fan.
How do you like your poke?

Related Articles
The Best North Shore Shrimp Trucks
Kakimochi is Hawaii's Movie Treat
Pastele:  Presents Wrapped in Tin Foil

---
Return to the top of "Hawaiian Poke for Pupu and More"

Return to the "Local Kine Grindz" Page

Back to the Hawaiian-Culture-Stories.com Home Page