The Best North Shore Shrimp Trucks

Oahu's North Shore is home to beautiful beaches and mind blowing garlic shrimp plates
By Cara Fasone

One of my favorite local pastimes is driving through Oahu's North Shore to eat garlic shrimp. North Shore Shrimp trucks aren't necessarily Hawaiian, but something about eating seafood on the roadside of a beach town is a perfect way to spend a day in Hawaii. Along Kamehameha Highway starting in Haleiwa all the way to Kahuku, you will find various shrimp trucks offering their version of garlic shrimp.
Giovanni's

Everyone has a different favorite; my mom and I love Giovanni's, the most popular truck on the North Shore, Hawaii. You can easily spot their trucks because they are covered with Sharpie signatures and autographs from patrons and you will always see long lines of people waiting .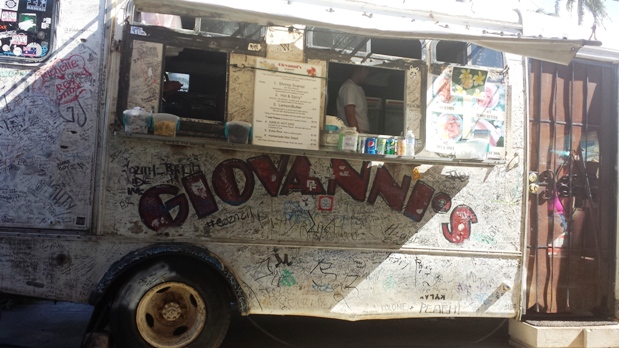 Giovanni's is the favorite North Shore Shrimp Truck
Photo by Cara Fasone

Giovanni's shrimp is finger-lickin' good! Their garlic sauce is so ono; I'm not sure if it is butter or olive oil, but I would pay to eat just their sauce and rice!

Giovanni's famous shrimp plate
Photo by Cara Fasone

Judy and Jackie, two of my best friends, have different opinions on shrimp. Judy loves Romy's because they offer prawns with the head and spicy sauce, while Jackie prefers Hono's because she says it is less oily than the others.
Romy's shrimp plate
Photo by Cara Fasone


Hono's shrimp plate
Photo by Cara Fasone

North Shore Shrimp Truck Run

My cousins and I decided to go on a "shrimp run," we wanted to drive around and try different shrimp spots. On our list was Macky's, Ted's Bakery and the crowd favorite, Giovanni's.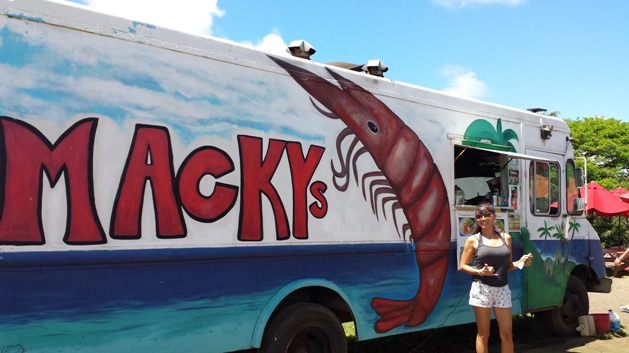 My cousin, Summer, at our first stop Macky's Shrimp
Photo by Cara Fasone

Macky's shrimp plate
Photo by Cara Fasone


Macky's was our first stop and we all liked it, not bad at all, but not Giovanni's our standard for garlic shrimp plates. 

Ted's Bakery

After a day of eating garlic shrimp, I decided that I had a new favorite! I will always love Giovanni's, but Ted's Bakery is my new favorite shrimp spot on the North Shore Hawaii. Their plate comes with less shrimp, but they are huge and peeled. Their sauce is scampi-style with Parmesan cheese sprinkled on top; different than Giovanni's, but pretty spectacular. It also comes with mac salad and a piece of Ted's famous pie!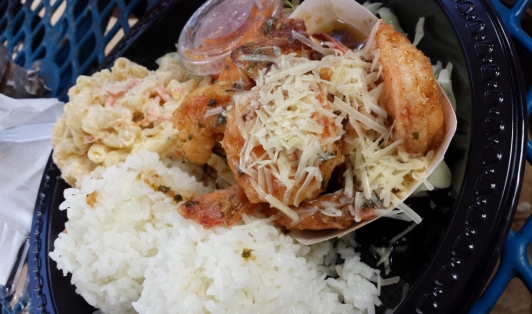 Ted's Bakery shrimp plate
Photo by Cara Fasone

Family fun at Ted's Bakery
Photo by Cara Fasone


I've always loved Ted's pies, my favorite is their famous chocolate-haupia cream pie, but we usually just pick it up at Foodland, our local grocery store.


This was my first time at the actual bakery and besides their pies, the food is a must-try, too. My cousins all agree, Ted's garlic shrimp plate is mean!

No matter what North Shore shrimp truck you go to, you will burp up garlic the rest of the night; vampires beware! But it is totally worth the garlic burps and journey to the North Shore, nothing beats "broke da mouth" shrimp, two-lane country roads, and car rides with friends and family.
Which is your favorite North Shore Shrimp truck?

Ted's Bakery
59-024 Kamehameha Hwy
Haleiwa, HI 96712

Giovanni's
56-505 Kamehameha Hwy
Kahuku, HI 96731

66-472 Kamehameha Hwy
Haleiwa, HI 96712

Hono's
Kam Hwy
Haleiwa, HI 96712
Across from McDonald's in Haleiwa in same area as Giovanni's Haleiwa location


Romy's
56-781 Kamehameha Hwy
Kahuku, HI 96731

Macky's
66-632 Kamehameha Hwy
Haleiwa, HI 96712
Related Articles
The "Secret" Westside Dipping Sauce
The Best Hawaiian Island Sunsets

---
Return to the top of "Best North Shore Shrimp Trucks"
Return to the top "Local Kine Grindz" Page

Back to the Hawaiian-Culture-Stories.com Home Page