Kung Hee Fat Choy:  Chinese New Year in Hawaii

Chinese New Year is a time to celebrate Hawaii's Chinese culture
By Cara Fasone

Chinese and mixed-Chinese Hawaii residents make up about 1/3 of the state's population; this calls for a big Chinese New Year celebration in the islands. Whether you are all Pake (the Hawaiian word for Chinese), part Pake, or none at all, Chinese New Year is exciting because of the good food and good times. As a kid, I would wait for my li see, red envelopes with money in it, but as an adult, the holiday is more about celebrating my Chinese culture.
This is me in 1984. I'm 1/8 Pake and proud of it!
Photo courtesy of Cara Fasone

KUNG HEE FAT CHOY
In Hawaii, we say, "Kung Hee Fat Choy," which is a variation of the Cantonese greeting which wishes for a prosperous New Year. The celebration begins on the first day of the Lunar New Year, which is determined by the phases of the moon. 
I don't take it too seriously, but it is also fun to read my Chinese horoscope (I'm a dog) to see how my year will look. I'm always hoping my birth animal will get along with animal of the year, which will make it a prosperous year for me. Just in case, I'll eat my noodles and gao (rice cake), and accept gifts sent with lots of good luck!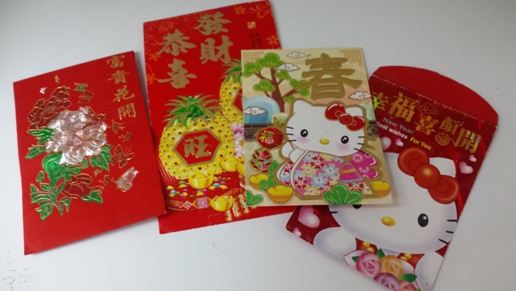 Li see are monetary gifts given with wishes of good luck
Photo by Cara Fasone

Chinese New Year Grindz
During Chinese New Year, it is tradition to eat gao, a sticky rice cake, that hopes the New Year will be heightened, just like a cake rises. Gao is a little sweet with a hint of coconut milk; it is chewy just like mochi. In Hawaii, we eat it just like that, but the Chinese sometimes slice gao, dip it in eggs and pan-fry it.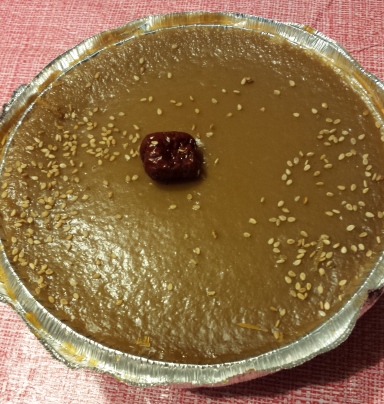 Gao is a Chinese New Year staple
Photo by Cara Fasone

Chinese in Hawaii also celebrate by eating Jai, a vegetarian stew, also known as Buddha's Delight. Eating Jai or "monk food" goes back to the Buddhist tradition of going vegetarian for the first five days of the New Year.
Chinese New Year is a time to celebrate Chinese culture; so all Chinese food is welcomed at the table. This year, I picked up some, Jin Dui, deep-fried sesame balls, to celebrate. The crispy on the outside, chewy on the inside ball filled with red beans reminded me of my childhood.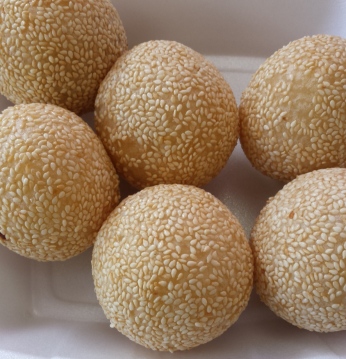 Jin Dui is the perfect CNY dessert
Photo by Cara Fasone

Lunar New Year Lion Dance
Chinatown's all over the world celebrate the New Year with a lion dance, which is said to ward off evil spirits. I remember taking my dollar bills out and putting it in the lion's mouth for good luck. I'd have fun seeing the performers mimicking the movements of the lion.
Chinese New Year in Hawaii is filled with good food and tradition. How did you celebrate the Lunar New Year?
Related Articles
Easy and Ono Fried Nian Gao Recipe

Ringing in the New year, Local-sytle
The Manapua Man, Hawaii's Ice Cream Truck

---
Return to the top of "Kung Hee Fat Choy:  Chinese New Year in Hawaii"
Return to the "Island Traditions" Page