Ringing in the New Year, Local Style
New Year's in Hawaii is full of cultural tradition



By: Cara Fasone
New Year's in Hawaii is welcomed with firecrackers, food and family. No one pays attention to the ball drop on TV because we're busy eating or lighting up the entire street. Although fireworks and the local kine grindz are all part of the tradition, celebrating culture with family and friends is at the heart of every New Year's in Hawaii.

Fireworks
New Year's in Hawaii is a big deal and we do it with a literal bang! Not only do Hawaii locals celebrate by watching big fireworks shows from Magic Island or Koolina Lagoons, but a lot of us pop firecrackers at home. In some Asian cultures it is said to ward off evil spirits.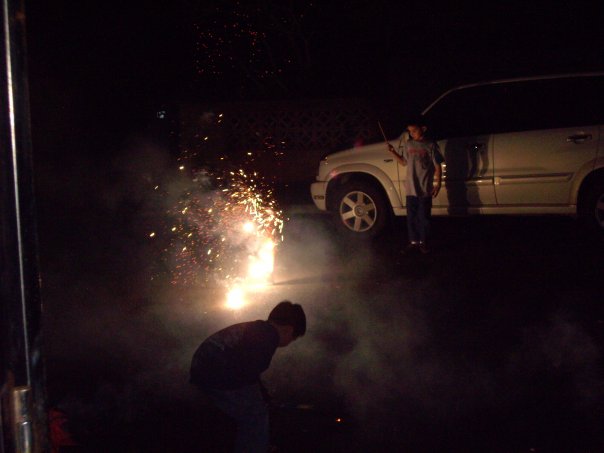 My cousins playing with fireworks on New Year's Eve
Photo by Cara Fasone

As a kid, I remember it being so smoky you couldn't breathe! It was also extremely noisy; I would cover my ears as it hit midnight because I knew it be super loud for a good half hour. My uncle would always buy the long strip of 10,000 little Chinese firecrackers tied together.
Nowadays you need a permit and even then selections are limited due to new laws, but it doesn't stop us from participating in this tradition.
The New Year's Grindz
On New Year's Eve at my house I would look forward to tempura, makizushi, somen salad, lumpia, and my favorite nishime, a Japanese stew with meat and vegetables. My grandma, auntie, and my mom would prepare all the food before the New Year, so they could enjoy eating and relaxing on the first day of the New Year.
My dad's side of the family makes sure to always make Japanese ozoni soup (mochi soup), which is good luck and welcomes a prosperous new year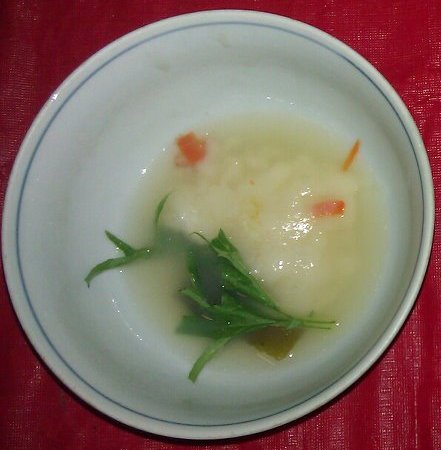 Ozoni soup, a traditional Japanese New Year food that is also eaten in Hawaii
Photo by Cara Fasone
Japanese Traditions
Many Hawaii locals celebrate by pounding fresh mochi, a tradition brought to Hawaii by the Japanese. We eat a lot of mochi at New Year's and also use it for the good luck kagami mochi, a New Year's decoration made of two mochi cakes and a small orange placed on top.
Like the kagami mochi, the kadomatsu, a New Year's decoration made of bamboo and pine is also said to welcome a happy and prosperous new year. The kadomatsu is sold at grocery stores all over Hawaii at the end of the year.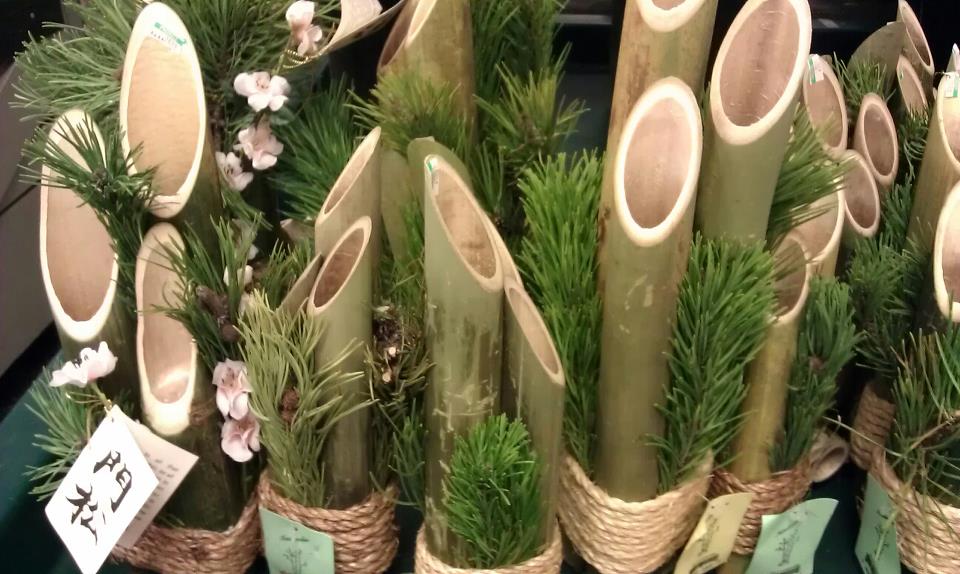 Kadomatsu is good luck in Hawaii
Photo by Cara Fasone
Scaring away evil with firecrackers and welcoming good luck with yummy food are some of the Asian cultural traditions we practice during New Year's in Hawaii.

What are some of your New Year's traditions?
Related Articles
Mele Kalikimaka, the Hawaiian Way

---
Return to the top of "Ringing in the New Year Local Style"
Return to the "Island Traditions" Page