Paniolo:  the Hawaiian Cowboy
 Hawaii is known for its surfers, but the Big Island's paniolo also make waves 
By Cara Fasone

Hawaii is famous for its beautiful beaches and water sports:  surfing, canoeing and paddle boarding, we often forget that our local ranchers also rodeo. Hawaiian cowboys or the "paniolo" on the Big Island of Hawaii have been making a name for themselves in the rodeo world since the early 1900s.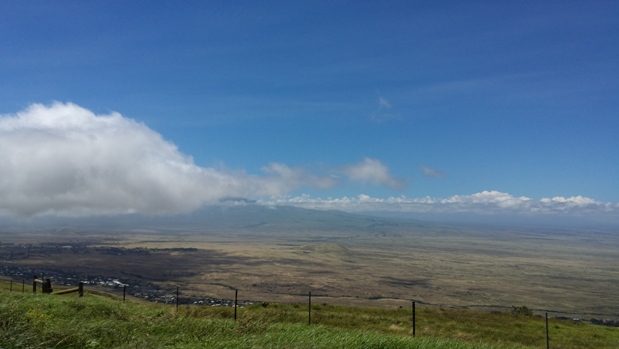 Wide-open spaces of Waimea
Photo by Cara Fasone

Waimea:  Cowboy Country
I recently visited Waimea, on the Big Island of Hawaii, for the first time. It was peaceful and majestic, with rolling hills and green acres; I could imagine a Nicholas Sparks romance novel being set there. Waimea is true cowboy country, nothing but cattle, ranches and lots of land. Waimea is also home to, Parker Ranch, a working ranch that has been around since 1847.
Parker Ranch is still a working ranch  now governed by a charitable trust
Photo by Cara Fasone

History of Paniolo
Driving around Waimea, it seemed like most of the town was ranch. It made me wonder how cowboy country came about. I read on the Parker Ranch website and the Paniolo Preservation Society's plaques some of the history of the Hawaiian cowboy.

It all started with five cows that were brought to the islands in 1793 as a gift to King Kamehameha I. The King let the cows roam free and in the next 20 years the cattle multiplied, becoming a problem for Hawaiian farmers.
In 1815, John Palmer Parker, Kamehameha's western advisor, brought to the islands an American Musket from his travels to China during the War of 1812. Parker was given permission to shoot the cattle to supply meat and hide, in less than a year the Hawaiian salt beef industry was booming. One year later, Parker married Chiefess Kipikane, Kamehameha's granddaughter, and was given two acres of land, beginning the Parker dynasty.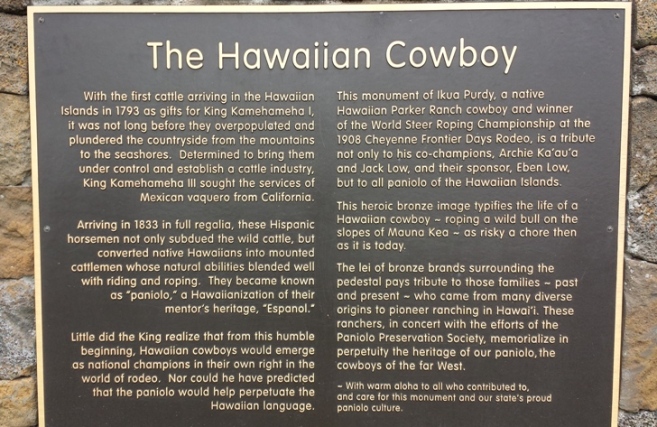 Paniolo pride in Waimea
Photo by Cara Fasone

In 1833, with the help of Parker, Kamehameha III brought Mexican vaqueros from California to Hawaii to break in the cows and train Hawaiians to be cowboys. These vaqueros who spoke Spanish or Espanol, helped create the "paniolo" culture that is still alive today. Not only did the vaqueros bring their ranch skills and equipment, they also introduced the guitar to the islands.
The Legendary Ikua Purdy
 Hawaiian paniolo wrangled cattle in Hawaii's rough waters, creating rodeo skills no one expected. In 1908 rancher Eben Low sponsored three top Hawaiian cowboys, Ikua Purdy, Archie Kaaua and Jack Low, to travel to Wyoming to participate in the Frontier Days Rodeo in Cheyenne.
I love underdog sports stories, so I read up about the paniolos in Cheyenne on Wyoming Tales and Trails. Mainland ropers were skeptical of the "brown kanakas" who rode in with colorful vaquero attire and flower leis. Cattlemen were stunned when Ikua Purdy took first place in the steer-roping contest with 56 seconds; Kaaua and Low also took top honors. The Cheyenne Daily Leader reported that "Their (paniolo) performance took the breath of the American cowboy."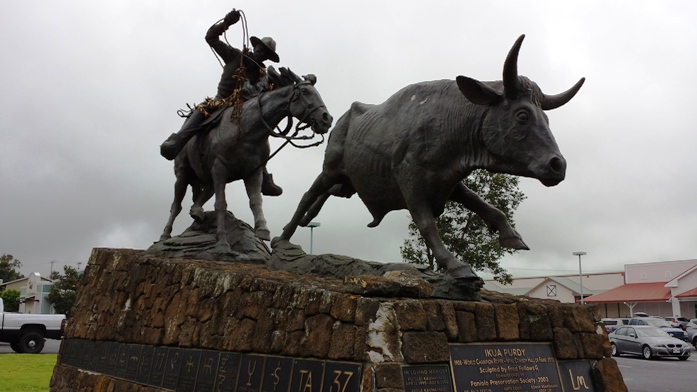 Ikua Purdy statue was dedicated in 2003 by the Paniolo Preservation Society
Photo by Cara Fasone

Ikua Purdy was inducted into the National Rodeo Cowboy Hall of Fame in 1999 and a statue of him wrangling a bull was dedicated by the Paniolo Preservation Society in 2003. 
Although Hawaii's paniolo culture is not as well-known as its surf culture, the cowboy lifestyle of ranch, rodeo, music and family still exists today. As I drove through beautiful Waimea, I remembered a different, but equally important part of Hawaii's history, our paniolo.
What are your memories of Waimea?

Related Articles
The Big Island of Hawaii: Kona to Hilo

---
Return to the top of "Paniolo:  the Hawaiian Cowboy"
Return to the "Talk Story" Page

Back to the Hawaiian-Culture-Stories.com Home Page