The Big Island of Hawaii




Kona to Hilo



With the familiarity of home and the thrill of new adventure, the Big Island is my favorite spot for vacation
By Cara Fasone
Once a year I go home to Oahu for two reasons, food and family. Except for a couple trips to Kauai to visit my grandma's relatives and a high school field trip to Kona, I haven't explored much of the outer-islands. Growing up my family chose to vacation in Vegas, the 9th island, instead of visiting the rest of the island chain.
Recently I got to tour the Big Island, pretty much in its entirety and I was wowed. Although I love Oahu because there are endless things to do and eat, the Big Island is what I envision when I think Hawaiian vacation.
Kona the Resort Town
My best friend Jackie (also a Oahu native) and I landed in Kona, our first stop on the Big Island. You could tell by the size of the airport that it was a small town. I loved driving up the two-lane road to our hotel at the Kona Coast Resort.
Macadamia Nut Martini with a view
Photo by Cara Fasone


Kona is beautiful beach town with a strip of seaside restaurants and bars. We stopped at Hugo's on the Rocks for a tropical drink.

Nothing beats eating fish tacos with your feet literally in the sand and the sounds of the ocean in the background. It reminded me of the movie, Cocktail; where is my Tom Cruise?!
The highlight of Kona for me was the poke at Umeke's, best poke I've ever had! We also stopped for fresh coconut water on the side of the road before we hit the beach.

Kona is the perfect place for rest and relaxation!


Fresh coconuts in Kona
Photo by Cara Fasone
Waimea:  Land of the Paniolo
Our next stop on our way to Hilo was Waimea, paniolo (cowboy) country. Waimea is home to many working ranches, including Parker Ranch. There is just so much land and open space, the opposite of Honolulu, which can feel congested at times.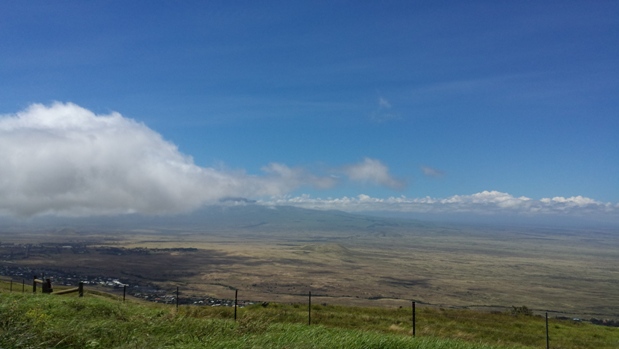 Wide-open spaces in Waimea
Photo by Cara Fasone

Malasada Pit Stop in Honoka'a:
Honoka'a is known for Tex Drive-in where they serve malasadas, a fried Portuguese donut. Tex's malasadas are more like fried bread than the Leonard's Bakery malasadas I'm used to, but the bugga was still ono!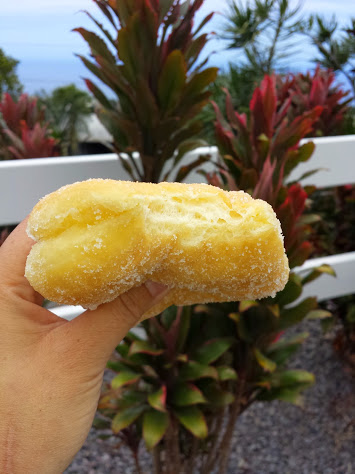 This malasada is soft, sugary, and splendid!
Photo by Cara Fasone
Majestic Waipio Valley
Waipio Valley on the Hamakua coast is a must-see lookout spot. Once home to Hawaii's royal ali'i including Hawaii's King Kamehameha I, Waipio Valley is not only a beautiful picture, but an important historical site.
As Jackie and I walked down to get a closer view, a woman chanted in Hawaiian. We came at the perfect moment, Jackie said she could feel the mana (power) still there.
Waipio is a peaceful and beautiful site
Photo by Cara Fasone
Hilo Town

I love Hilo. The small town has this old school Hawaiian vibe, the kind of feeling I get when I'm in Kaimuki on Oahu. Although it is modern, it feels like a throwback.
There are a lot of local Japanese residents in Hilo, which means there are mom and pop, local kine grinds! It was my first time in Hilo and I was interested to see where the locals eat.
Jackie and I met my cousins for saimin at Nori's Saimin & Snacks. I'm a saimin snob and it was just as good as the saimin halls of my childhood. Their cone sushi is also so juicy and broke da mouth!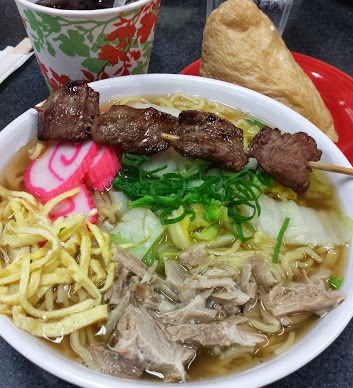 Hilo-style saimin, bbq stick, cone sushi... da bomb!
Photo By Cara Fasone
Hilo also has the best omiyage! I got my mochi fix at Two Ladies Kitchen and my chocolate-dipped shortbread cookies at Big Island Candies.


Poha berry mochi had a lilikoi flavor
Photo by Cara Fasone

Akaka Falls
Just a short drive from our bed and breakfast was beautiful Akaka Falls. You can hear the sounds of the water rushing down as you make your way to the falls. It was pouring rain over there, which explains why it is so lush and green. It felt like I was walking through Jurassic Park. 
I read that the Big Island of Hawaii has almost all of the world's ecosystems. Akaka Falls felt like a tropical rainforest, so different than Hilo town, just a few minutes away.
Akaka Falls State Park
Video by Cara Fasone

Mountain View
I was happy to visit my cousins in Mountain View. My cousin Tiana is studying agriculture in Hilo and grows Kale, poha berries, and other fruits and vegetables. Her husband, Eric, fried up some smoked meat for us, which Tiana said they traded for her Kale.
My little cousins enjoying their ice cake
Photo by Cara Fasone


 I love that they grow their own vegetables and barter, it felt so country. Even my little cousins, Dakota and Alexa, were not glued to a cellphone (there is no signal anywhere on the Big Island, anyway!) or video games, they were outside playing, riding bikes; that was refreshing!
This smoked meat was delish!
Photo by Cara Fasone
Kalapana Road
Our last stop before we headed back to Oahu was to the Puna district. We got a little lost on our way to the hot ponds, but the hippies in Pohoa guided us in the right direction. Pohoa is known for their alternative lifestyle; we passed quite a few hitchhikers with jeweled bindis on their foreheads and other residents who looked like they just walked out of a Grateful Dead concert, it was far out.
Driving down the Kalapana road is one of the most beautiful drives I've ever seen. The coast is absolutely gorgeous and the ride is lush with greens, vines, and trees that come together making a natural tunnel.
Very long, but scenic drive!
Video by Cara Fasone

Ahalanui hot pond is a hidden thermal pool, nice place to just kick back. I stuck my foot in the water and it was room temperature. It was the perfect spot for relaxing, as the waters in Kona were a little rough and rocky.
Time for rest and relaxation at the hot ponds
Photo By Cara Fasone
My trip to the Big Island of Hawaii was one I will never forget. Oahu will always be my home, but there is so much in the outer-islands that I have yet to discover. This trip to the Big Island opened my eyes to a Hawaii beyond Oahu; I'm excited to see what the other islands have to offer.

What is your favorite Big Island omiyage?

Related Articles
---
Return to the top of "The Big Island of Hawaii"
Return to the "Lucky We Live Hawaii" Page

Back to the Hawaiian-Culture-Stories.com Home Page