SPAM Meat:  The Hawaiian Comfort Food
Spam meat might be mystery meat on the mainland, but is comfort food for many Hawaiian locals
By Cara Fasone

One of the things I miss about Hawaii is seeing Spam meat (not junk mail) on restaurant menus. From fast food to fine dining, the luncheon meat has grown into a "delicacy" since its introduction during WWII. Although Spam has a bad rep in other parts, locals love the "Hawaiian Steak."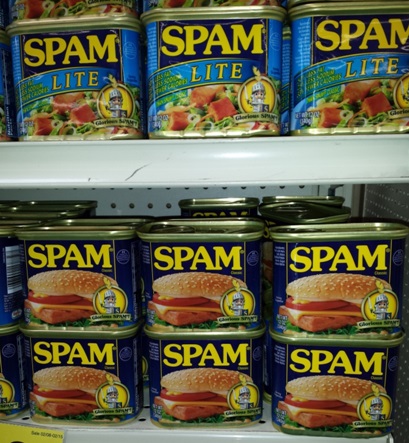 Hormel's famous blue can of Spam
Photo by Cara Fasone
Comfort in a Can

Spam, pre-cooked and canned from leftover pork parts, might be mystery meat on the mainland, but is comfort food for many Hawaiian locals. I have fond memories of waking up to my grandma's Spam fried rice. The crackle when it hits the hot pan, the aroma when the shoyu (soy sauce) and sugar glaze she'd use would start caramelizing. A Spam breakfast was the only way she could get me out of bed to go to school.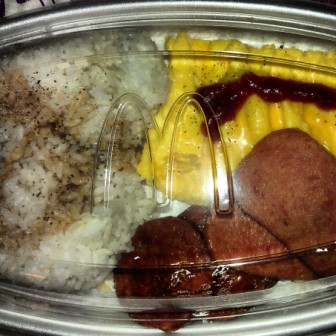 The Deluxe Breakfast Platter at McDonald's Hawaii: 
Spam, Portuguese Sausage, Eggs, and Rice
Photo by Cara Fasone

Spam-To-Go
Spam is a quintessential part of the Hawaiian diet. Served even in a breakfast platter with eggs and rice at McDonald's and Burger King, Hawaiians consume the most Spam meat per capita in the United States, on average 7 million cans per year. Like the taquito in California, Spam is the ultimate convenient food and can be found in different varieties of musubis and bentos at the local 7-11 stores.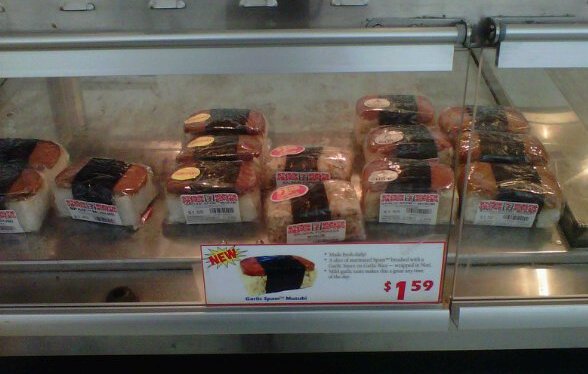 Spam Musubi at 7-11 Hawaii, voted best Spam Musubi by locals
Photo by Cara Fasone
Spam Jam

The Hormel product is celebrated on the streets of Waikiki every year with the annual "Spam Jam."  For the past 12 years, the food festival has invited top restaurants to make Spam meat dishes including Gordon Biersch's Spam Street Tacos and P.F. Chang's Spam Lettuce Wraps and Spam Lo Mein. The lettuce wraps I tasted were salty, cool and crisp.
Now that I'm on my own and on the mainland, chopping up some Spam and throwing it in my instant ramen is a quick cure for homesickness. When I can't buy a plane ticket, I can get a little comfort in a can.  

Spam Musubi

My favorite fieldtrip home lunch was the Spam musubi: Spam on top of a block of rice, wrapped in dried seaweed, also called nori. I felt like the luckiest kid when I'd open up my sack lunch to find a perfectly Saran-wrapped Spam musubi. My grandma's version had furikake (seaweed flakes) in the sticky rice and a homemade teriyaki sauce. With all its ingredients, it was more special than her peanut-butter-jelly sandwiches.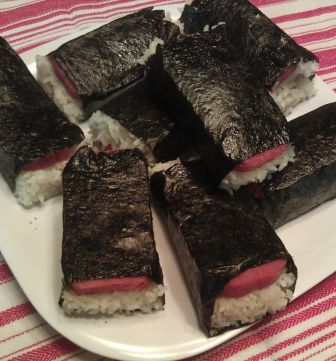 Spam Musubi homemade by me!
Photo by Cara Fasone

Pulling the tab on that blue can of meat is not just the start of a good meal for me, but a rewind to my childhood and a reminder of my culture. Although the Spam musubi I make is not as perfect as my grandma's, I make it for every potluck I attend. I'm always happy to share a family tradition and make a new friend.
What is your favorite way to eat Spam?

Related Articles
Spam Eggs Rice:  a Hawaiian-style Breakfast
New Flavors of Spam Hit the Shelves

Tocino Spam is the Best Thing Ever

Pastele:  Presents Wrapped in Tin Foil
---
Return to the "Local Kine Grindz" Page

Back to the Hawaiian-Culture-Stories.com Home Page