Grandma's Banana Macadamia Nut Bread Recipe

My grandma's recipe for onolicious and moist Hawaiian banana nut bread
By Cara Fasone

I've eaten (and baked) many versions of banana bread over the years, but I have yet to come across a recipe that is better than my grandma's. Although there are good recipes out there, my grandma's banana nut bread is hands down the best.
Moist, nutty, and delicious slice of banana nut bread
Photo by Cara Fasone

The loaf has a nice crust on top, but once you cut the bread in slices, you will see it is very moist on the inside. It is more like a cake than a bread, with just the right amount of sweet and tons of macadamia nuts.

Tips from Grandma

This is an old school recipe that my family has been baking for years. There are no apple sauce substitutes or gluten-free flour, the recipe calls for a whole cup of vegetable oil and 2 cups of sugar. Make it just like the recipe says, so worth it!

My grandma would add that the spottier your banana is on the outside, the better your banana bread will be. She taught me to freeze spotty bananas and thaw them later when it was time to bake. They turn black on the outside, but no worries, still can!

Banana Macadamia Nut Bread

Ingredients:

3 ripe bananas (mashed)

*mash it good, no chunks


1 1/2 cup macadamia nut pieces

2 cups sugar

1 cup vegetable oil

4 eggs

2 1/2 cup flour

2 tsp baking soda

1/2 tsp baking powder

1 tsp salt

1 tsp vanilla extract


Bananas and mac nuts the key ingredients
Photo by Cara Fasone

Directions:
Preheat oven at 350 degrees




In a large bowl, sift dry ingredients (flour, baking soda, baking powder, and salt) together

In a medium bowl, mix sugar and oil together. Add in eggs. Add in vanilla extract.




Combine wet ingredients with dry ingredients, mix well. 

Add in mashed bananas and macadamia nuts, mix well. 

Pour batter into two greased 9x5 loaf pans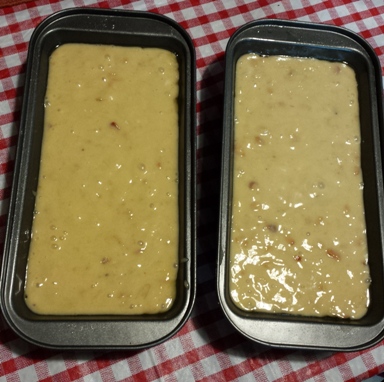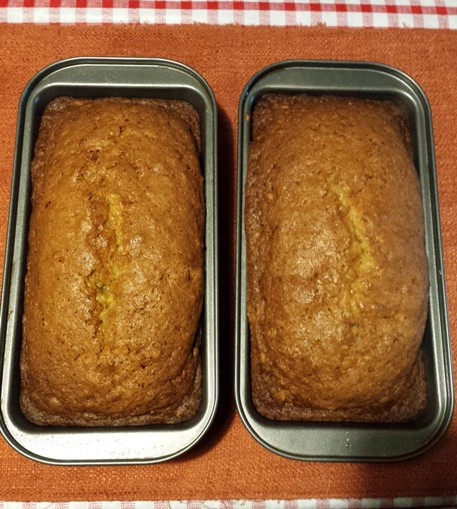 Finished banana macadamia nut bread
Photo by Cara Fasone

This shit is bananas, B-A-N-A-N-A-S!
Related Articles
The Best Hawaiian Butter Mochi Recipe
Pumpkin Crunch:  Hawaii's Favorite Holiday Dessert
Hawaiian-style Furikake Chex Mix Recipe

---
Return to the top of "Grandma's Banana Macadamia Nut Bread Recipe"
Return to the "Local Kine Grindz" Page