Pumpkin Crunch, Hawaii's Favorite Holiday Dessert
Not sure where Pumpkin Crunch originated, but it's a fall classic in the islands
By Cara Fasone

As soon as I change my calendar to October, I start craving pumpkin everything! My favorite holiday dessert for fall is Pumpkin Crunch. So much tastier than pumpkin pie, pumpkin crunch is a"dump cake" meaning you just dump a box of yellow cake mix on top your pie filling, add some nuts, melted butter and bake. Although it seems like a classic, American housewife type recipe, Pumpkin Crunch is all the rage in Hawaii.
Holiday Traditions

I've looked forward to my mom's Pumpkin Crunch on Thanksgiving all my life and now as an adult, I make it every year. I recently brought it to a work party and my friends loved it.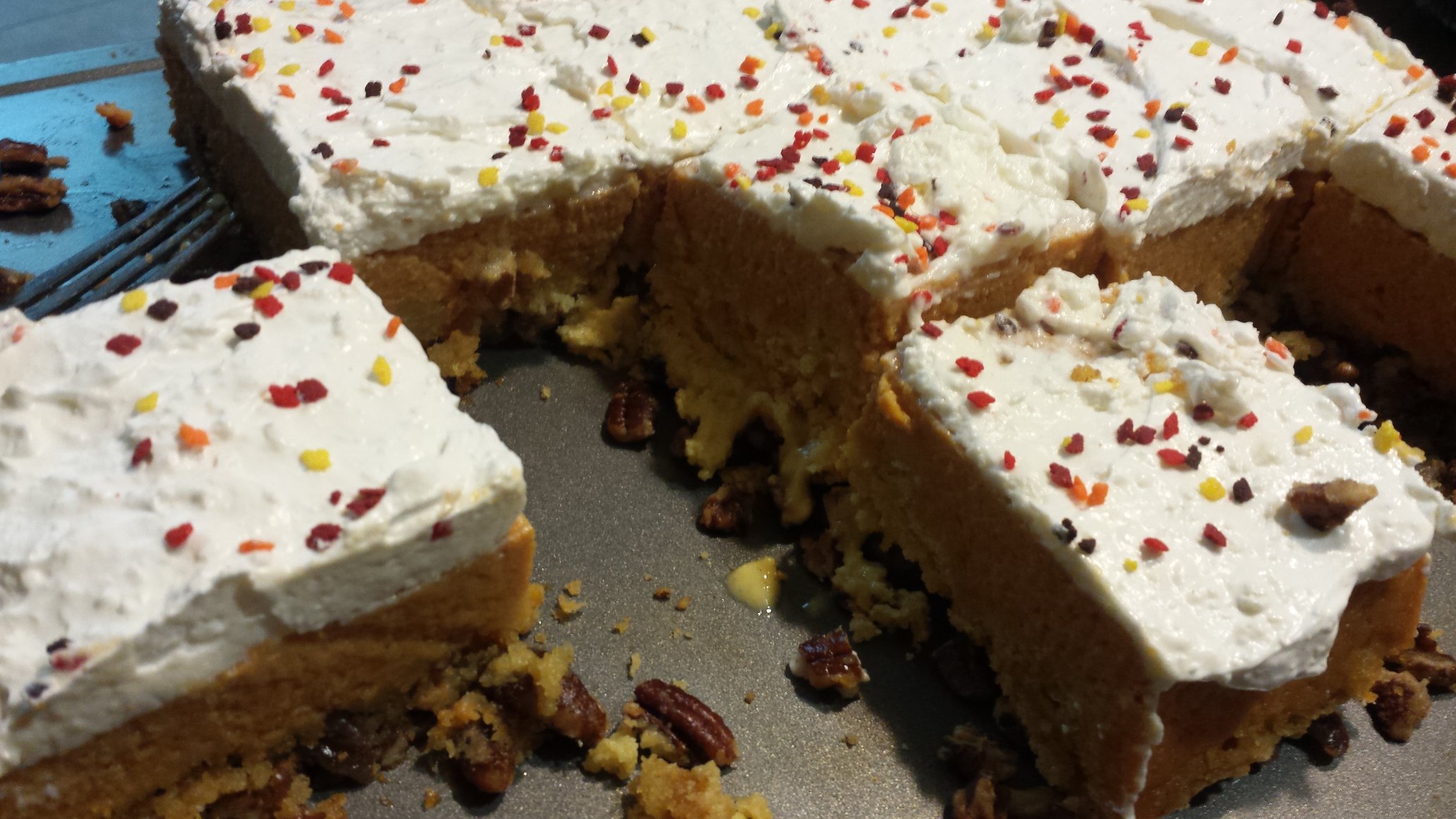 Pumpkin Crunch is my go-to dessert for fall potlucks
By Cara Fasone

PumpkinCrunch

Of course before we ate it, I took a picture of it for Instagram, #pumpkincrunch. Later that night I hashtag searched my favorite dessert so I could drool over other people's pictures of the creamy pumpkin, nutty crust, and cool whip top. I noticed that most of the people who posted pictures of Pumpkin Crunch were Hawaii locals.
Whether it was a homemade version or a picture of Aiea Bowl's slice of pie, Pumpkin Crunch seems to have some Hawaii ties. I googled it, but could not find the origin of Pumpkin Crunch. I did notice that Sam Choy and Foodland have posted recipes for the popular pumpkin dessert, too.
Whether it originated in Hawaii or on the mainland, Pumpkin Crunch is a must-try! With so many layers of flavor and texture, Pumpkin Crunch is so much better than regular pumpkin pie and the recipe is very easy to follow.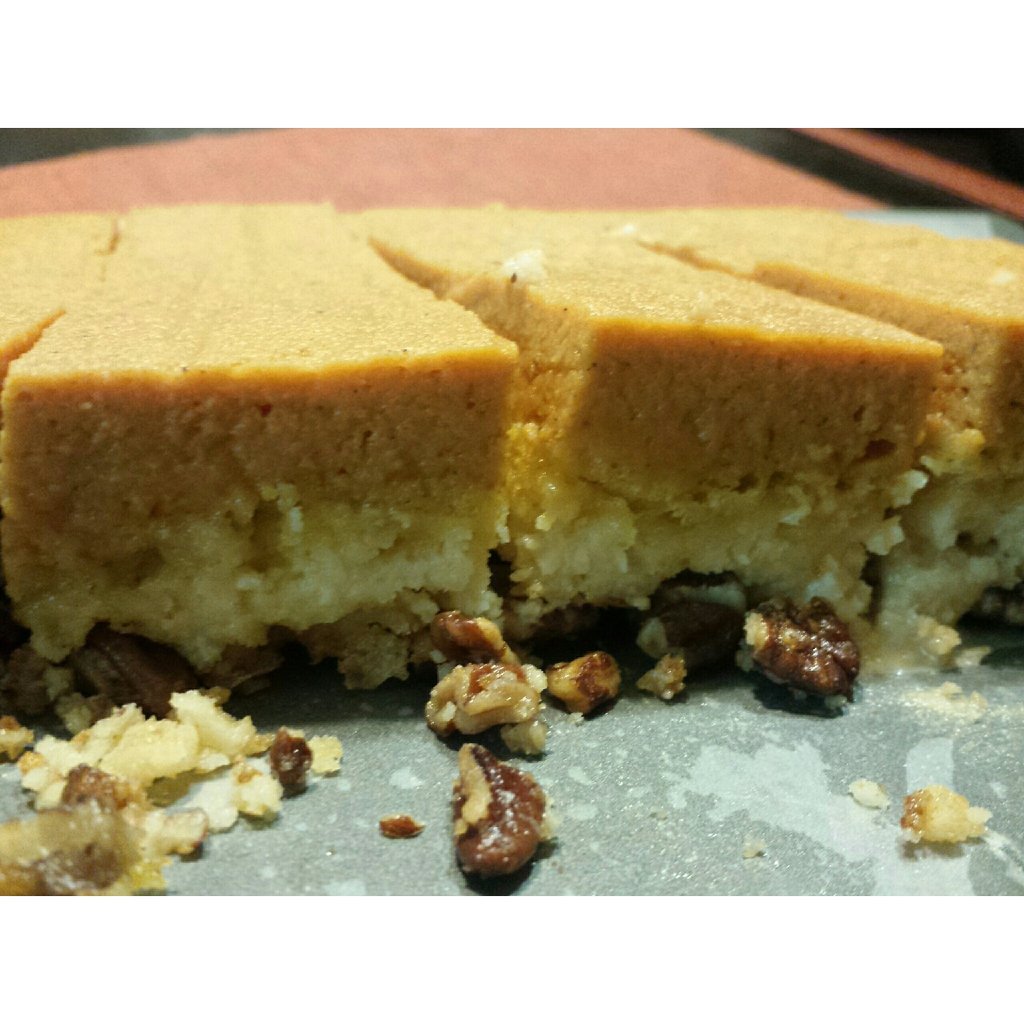 Spicy, creamy, nutty, sweet, Pumpkin Crunch is the bomb!
Photo by Cara Fasone

Pumpkin Crunch Recipe
Ingredients:
29 oz can of Pumpkin
2 sticks of unsalted butter (melted)
1 cup sugar
12 oz can of evaporated milk
1 tsp cinnamon
1 tsp vanilla extract
3 eggs
1 cup mac nuts (or pecans or walnuts)
1 box yellow cake mix (stay away from the ones that say pudding in the mix, it will be too wet)
1 tub cool whip 
Directions:
Preheat the oven at 350 degrees
Line a 9 X13 pan with wax paper
In a bowl, mix the pumpkin, eggs, sugar, cinnamon, vanilla extract and evaporated milk
Pour the pumpkin mixture into the wax paper
Evenly sprinkle the yellow cake mix over the pumpkin filling
Spread the nuts evenly over the yellow cake mix
Pour melted butter over everything
Bake at 350 degrees for 1 hour
Let the pie cool for 1 hour, be patient!
After the pie has had a chance to cool, flip it over on to a chopping board or baking sheet or any flat surface
Peel off the wax paper and cut into squares
Dollop some cool whip on top and enjoy!
What is your favorite holiday dessert?
Related Articles
Hawaiian-style Portuguese Sausage Stuffing Recipe
Grandma's Banana Macadamia Nut Bread Recipe

Mele Kalikimaka, the Hawaiian Way
---
Return to top of "Pumpkin Crunch, Hawaii's Favorite Holiday Dessert"
Return to the "Local Kine Grindz" Page