The Best Hawaiian Butter Mochi Recipe
This delicious and easy Hawaiian Butter Mochi recipe is a potluck pleaser
By: Cara Fasone
I'm a huge mochi fan; I love sweet and sticky rice cakes from any Asian country. From the Chinese nian gao to Japanese manju, I'll eat them all! One of my all time favorite rice flour desserts is Hawaii's own Butter Mochi. What can be better than adding a stick of butter into the batter? Probably nothing. I'm sure these were the thoughts of the genius that invented Butter Mochi.
Butter Mochi, a Hawaiian Japanese dessert, is chewy, buttery, and sweet (but not too sweet). It has a custard-like flavor, but the sticky texture of mochi. My Filipino friends say it reminds them of Cassava Cake, which has a similar flavor and consistency.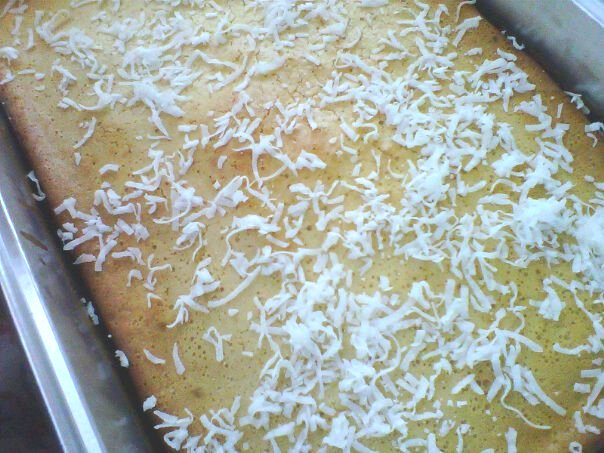 Butter Mochi topped with shredded coconut
Photo by Cara Fasone

Butter Mochi (and mochi in general) can be found at the grocery store in Hawaii and local bake sales, it is not so common on the mainland. One of the misconceptions about mochi is that it is Japanese ice cream; mochi is actually the gooey part covering the ice cream. 
I wanted to bring something Hawaii-related to my mainland work party, so I decided to make Butter Mochi. All of my co-workers loved it; it is probably one of my most complimented and recipe requested dessert. I knew after my Butter Mochi success I would always receive a party invitation. 
There are many variations on the Butter Mochi recipe, some people use coconut milk while others prefer whole milk, some like more sugar or eggs than others. The recipe below is my favorite Hawaiian Butter Mochi recipe. 
Hawaiian Butter Mochi Recipe
Ingredients:

1 stick unsalted butter, melted

2 to 2 ½ cups sugar

1 box (16 ounces) mochiko flour (look for this in the Asian aisle at your grocery store)

1 can (12 ounces) evaporated milk + ½ cup water

1 can (13.5 ounces) coconut milk

4 large eggs

2 teaspoons baking powder

1 teaspoon vanilla extract

1 cup shredded coconut
Directions:
Preheat oven at 350 degrees and make sure rack is in the middle.
In a microwave safe bowl, melt butter.
Add sugar and mix until well combined.
Add vanilla extract, then add eggs, one at a time.  Mix until well incorporated. 
Add in mochiko flour and baking powder and continue to mix.
Combine evaporated milk and water in a separate bowl.  Whisk to blend. 
Add the evaporated milk to mochiko mixture, mixing well.
Next add in the can of coconut milk, whisking until blended.
Mix in shredded coconut (this is optional).
Pour mixture into a 9" x 13" greased pan and bake for one hour. 
Promptly remove from oven, and let cool completely. Cooling will take about an hour or so, be patient; it will be easier to cut into bars when it's cool!
Top with shredded coconut or sprinkles.
Refrigerate if not consumed in one day!
What are your favorite mochi desserts?
Related Articles
Grandma's Banana Macadamia Nut Bread Recipe

Easy and Ono Fried Nian Gao Recipe

Pumpkin Crunch, Hawaii's Favorite Holiday Dessert

---
Return to the top of "The Best Hawaiian Butter Mochi Recipe"
Return to the "Local Kine Grindz" Page