Oahu: the Best Hawaiian Island Sunsets

The "country" on Oahu's Westside has some of the best Hawaiian island sunsets
By M. Keala Milles Jr.
Ending a long day at the beach as the sun falls behind the horizon is the best way to vacation or staycation. Hawaiian island sunsets are one of the top reasons to love the 50th state. 
Maile Beach


I spent my summers on the Westside of Oahu, the best Hawaiian Island in my opinion.  I took this picture a couple years ago on a random night in Spring, I believe, (its so hard to tell the seasons apart sometimes!) I took this along the road, just inland of the beach park near Maile beach.  I used my phone's camera, not a terrible camera to say the least, but not the best by any photographer's standards; the picture is still beautiful. With a sky so rich in color, this was a moment of pure bliss for me.

Maile Beach Sunset
Photo by M. Keala Milles, Jr.
If you appreciate the simplicity and wonder of a Hawaiian island sunset, especially on the beach, Oahu wins the best Hawaiian Island contest (thanks again to the "country")!  Here are a few other pictures from different beaches along Farrington Highway in Maile and Waianae.
Here, for instance, is sundown along the beachfront near Nanakuli, the next town over from Waianae. 

Nanakuli Sunset
Photo by M. Keala Milles, Jr.

Nanakuli Beach


This is a small area on the Leeward coast of Oahu, just before Farrington Highway turns into the main freeway into "town."  I took this picture walking along the road, see the wooden fence in the foreground?  This is a beach most tourists will probably miss because Nanakuli is a completely residential area.
Turtle Beach

Another hidden treasure on the Westside of Oahu is Turtle Beach in Makaha. One of the great things about Makaha beaches is that they are rarely crowded, thanks to this town being nestled all the way at the end of Farrington Hwy.  Aside from a couple nearby hotels and vacation homes, this is a beach for the locals. If you are looking for something relaxing, particularly at sunset, this is definitely the place to be!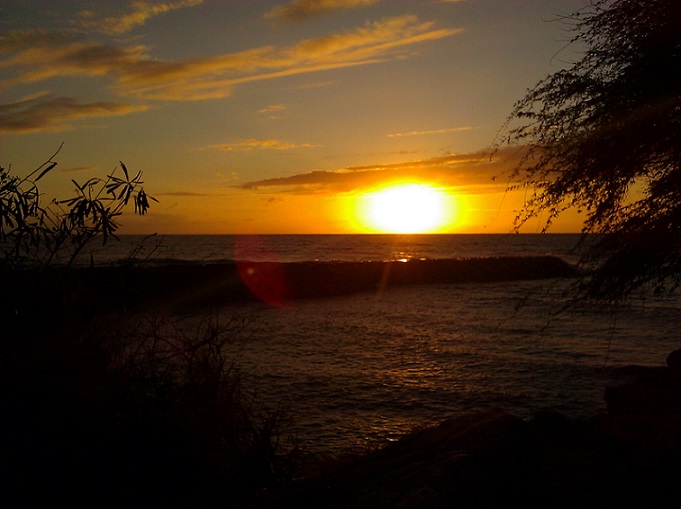 Makaha Beach Sunset
Photo by M. Keala Milles, Jr.
Although probably an impossible argument to win because each Hawaiian island has its highlights, in my humble opinion, the best Hawaiian island for sunsets is Oahu, specifically on the Westside.  I could be wrong, so let's just enjoy gathering evidence either way.
Where are your favorite Hawaiian island sunsets?
Related Articles
Hawaiian Traditions at Pokai Bay
Heiau Ku'ilioloa: a Place of Refuge in Waianae

The "Secret" Westside Dipping Sauce

---
Return to the top of "Best Hawaiian Island Sunsets"
Return to the top "Lucky We Live Hawaii" Page

Back to the Hawaiian-Culture-Stories.com Home Page