Hawaii's Best Malasadas
THe bakeries that fry up some mean malasadas
By Cara Fasone

If you haven't tried a malasada, the Portuguese doughnut famous in Hawaii, it should be added to your foodie bucket list. If you're a Hawaii local, you probably have your favorite spots to pick up a box.

Although anything deep-fried and rolled in sugar is good to me, when my sixth grade teacher fried and sugar dusted balls of Pillsbury biscuit dough, I had zero complaints, but I do have my favorite bakeries for the real deal!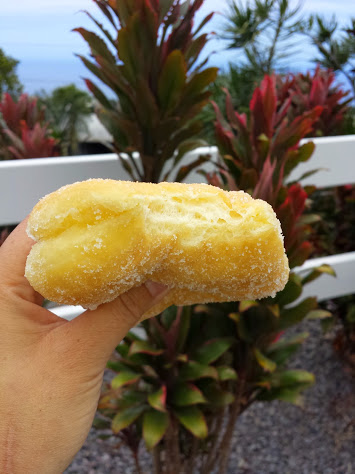 Malasada from Tex Drive-in on the Big Island
Photo by Cara Fasone
Malasadas are fried dough balls coated with granulated sugar, similar to the beignet popular in New Orleans Creole cuisine and the Filipino doughnut, bicho bicho. Malasadas made its way to Hawaii in the 19th century when Portuguese laborers moved to the islands to work on the plantations; it's been a hit ever since.
Leonard's Bakery
Ask anyone on Oahu about malasadas and they will mention Leonard's Bakery. Leonard's Bakery started frying up malasadas in 1953 to celebrate the Portuguese tradition Shrove Tuesday (Fat Tuesday), the day before Lent, which is also known as Malasada Day in Hawaii. 
Li Hing Mui Malasada from Leonard's JR
Photo by Cara Fasone

Leonard's Bakery makes the best classic malasada, golden brown on the outside, soft on the inside with just the perfect amount of sugar. Its light for a donut and makes you convince yourself that it's ok to have two, three, or a dozen. Leonard's also offers malasadas dusted with cinnamon-sugar and my favorite li hing mui-sugar. They also make malasada puffs with custard, dobache-chocolate, or haupia-coconut fillings.
My cousin Matt at Leonard's Bakery
Photo by Cara Fasone

They are located on Kapahulu Avenue, very close to Waikiki Beach. 
Leonard's Bakery
933 Kapahulu Avenue
Honolulu, HI 96816
808-737-5591

Leonard's Jr. (Malasada Mobile)
Waikele Shopping Center
94-849 Lumiaina Street
Waipahu, HI 96789
808-341-2428
The Big Island's Tex Drive-in
On the Big Island of Hawaii, the local go-to spot for malasadas is Tex Drive-in in Honokaa. Tex's malasadas are square and taste more like fried bread than the malasadas I'm used to on Oahu, but still very ono! Tex's is a drive-in so they also serve plate lunches.

The last time I visited the Big Island, we did a road trip from Kona to Waimea and then made a pit stop in Honokaa to get some malasadas before heading to Hilo. I enjoyed watching the ladies make the malasadas from the window.

Tex Drive-in
45-690 Pakalana St #19
Honokaa, HI 96727
808-775-0598
Kamehameha Bakery
My most recent favorite is Kam Bakery's poi glazed. It's a hybrid of a malasada and a donut, the inside is bright purple and has the consistency of a malasada, but the outside is glazed like a donut. Kam Bakery has been around for a long time, but in the last few years they started frying up their famous poi and strawberry glazed malasadas. They also have great taro buns!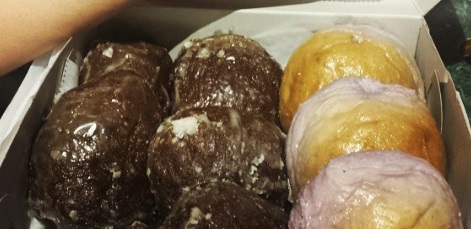 Box of Poi Glazed and Taro Buns
Photo by Cara Fasone
Kam Bakery
1284 Kalani St. Suite D106
Honolulu, Hawaii 96817 
808-845-5831

Where are your favorite spots for malasadas?
Related Articles
Liliha Bakery's Chantilly Frosting
Grandma's Banana Macadamia Nut Bread

---
Return to the top of "Hawaii's Best Malasadas" 
Return to the "Local Kine Grindz" Page