New Year's Local Kine Grindz
My favorite local-style New Year's food



By: Cara Fasone
Although the Portuguese sausage stuffing on Thanksgiving and the Christmas pineapple ham are ono, I always look forward to New Year's food!  Nothing beats ringing in the New Year with my favorite local kine grindz! 
Like most holidays in Hawaii, New Year's grindz are a mixed plate, but some of my favorite dishes were brought to the islands by the Japanese.

Nishime
Nishime, a Japanese stew made of a variety of Japanese vegetables, pork belly and chicken, is a staple local Japanese New Year's food. Every year my grandma goes to Daiei market to buy the vegetables including lotus root, araimo (Japanese taro), shiitake mushrooms, konnyaku (vegetable gelatin), konbu (edible kelp), and gobo (burdock root).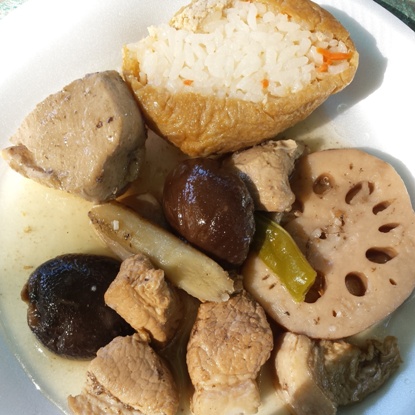 Starting my 2015 right with Nishime and cone sushi
Photo by Cara Fasone

My aunty and I had fun naming our favorite ingredients; she liked the konbu or what she called presents because they were tied like a bow. My favorites were the chicken breast and aburage (fried bean curd). 
Nishime is the kind of stew that is better the next day, when all the distinct flavors have time to blend together.
Somen Salad
In most Asian cultures it is good luck to eat noodles, which represent a long life. In my house we made somen salad for our New Year's noodle.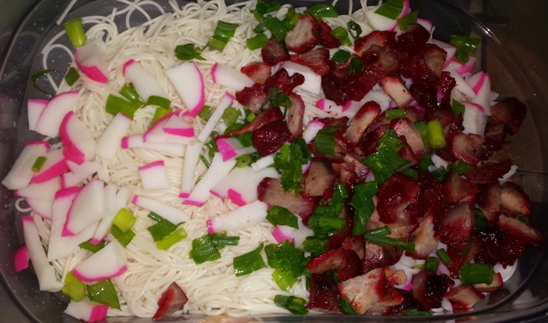 Somen Salad is local Japanese noodle salad
Photo by Cara Fasone

Somen salad is a cold, wheat noodle dish topped with sliced egg, char siu (Chinese barbecued pork), luncheon meat, green onion, kamaboko (fish cake) and sometimes shredded lettuce. The somen salad sauce is made of shoyu, vinegar, sesame oil and sugar.

Makizushi
Every year on New Year's Eve, my family rolls local-style maki sushi rolls, which include canned tuna, red and green shrimp powder, egg, gobo and kanpyo (dried calabash shavings). We would make plenty of rolls to give away to friends and neighbors.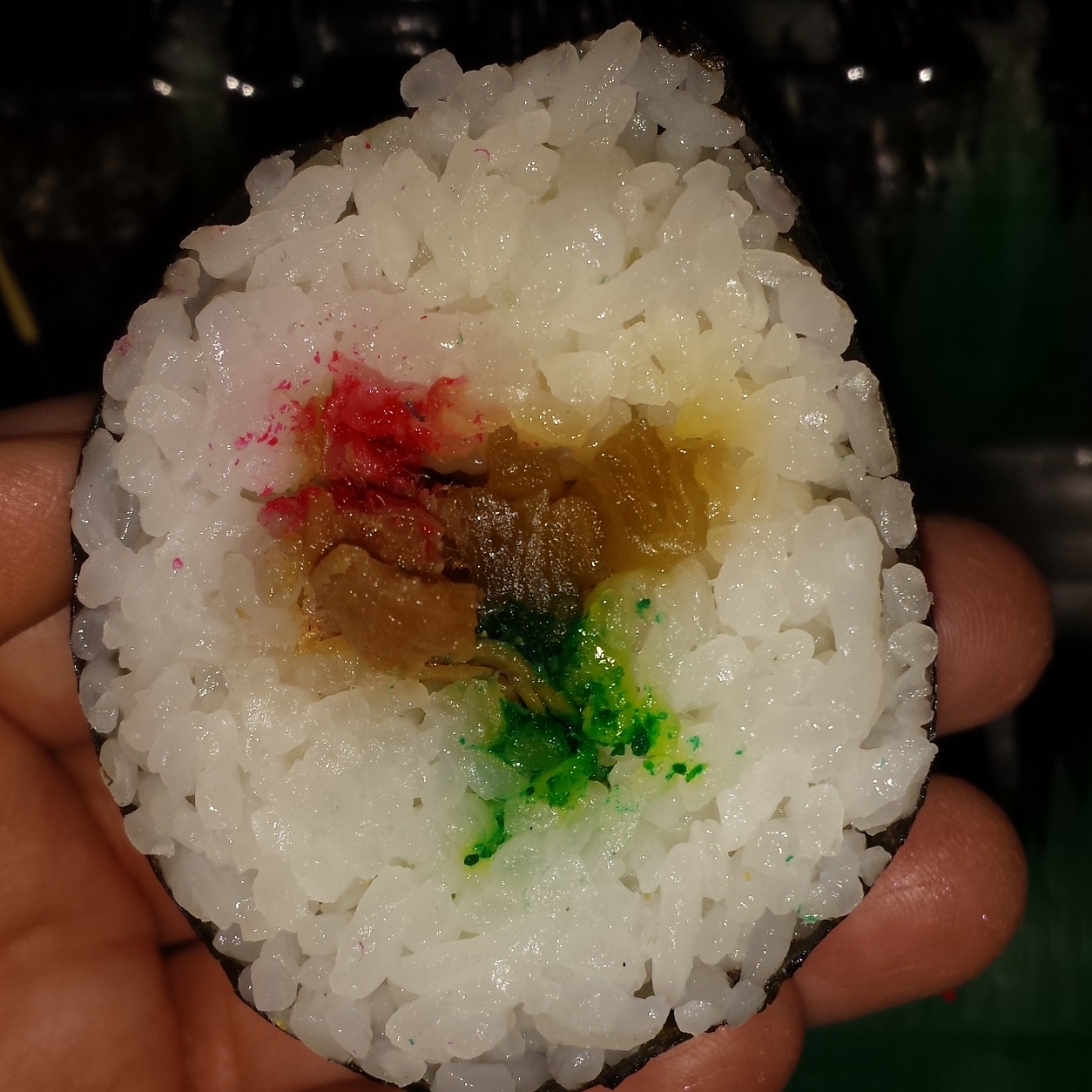 This year our neighbor shared her makisushi with us
Photo by Cara Fasone

Tempura
Eating shrimp and vegetable tempura to celebrate the New Year is a family tradition. I don't think it brings good luck, it's just the perfect companion to all the other Japanese food we eat. We make shrimp, sweet potato, and a vegetable medley with green beans, carrots and onion. The deep fried finger food is perfect with a grated daikon (radish) sauce.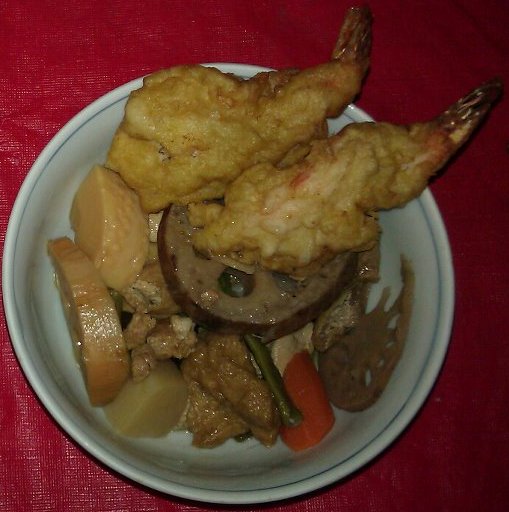 Shrimp tempura and nishme is the perfect combo
Photo by Cara Fasone

Lumpia
Although my immediate family is not Filipino, we always have lumpia (the Filipino version of the egg roll), as part of our New Year's spread. My aunty and I would carefully roll our lumpia made of ground pork, bean sprouts, carrots, and onions. We also made a shoyu and vinegar sauce with chopped tomato, green onion and white onion, broke da mouth!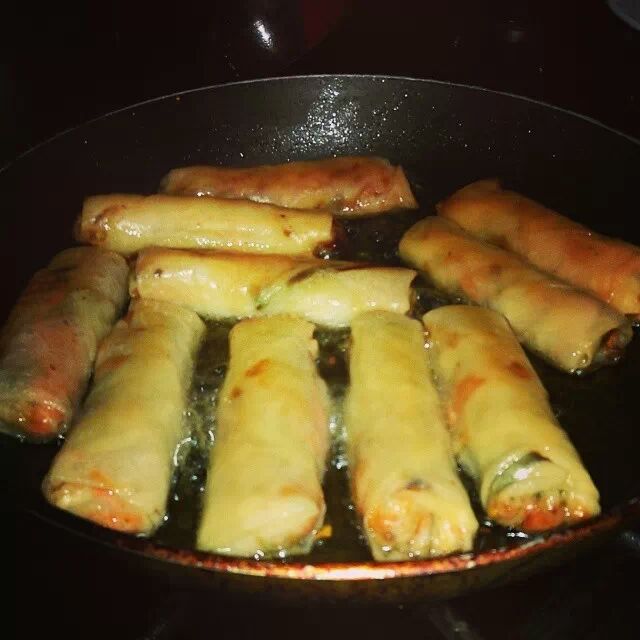 Lumpia is a party food every day of the year
Photo by Cara Fasone

Eating well when you're welcoming in the New Year means you will be happy and full all year round. What are your favorite New Year's foods?
Related Articles
Mele Kalikimaka, the Hawaiian Way
Ringing in the New Year, Local Style

Aunty Lillian's Somen Salad Recipe
Easy and Ono Fried Nian Gao Recipe

---
Return to the top of "New Year's Local Kine Grindz"
Return to the "Local Kine Grindz" Page