Hawaiian-style Portuguese Sausage Stuffing Recipe
The best part of the Thanksgiving meal with a local twist
By Cara Fasone

Thanksgiving is my favorite holiday because it's not about costumes or presents, the focus is family and FOOD! Growing up in Hawaii our holiday menu was always a mixed plate, but on Thanksgiving we kept it very American with the traditional turkey and classic trimmings. The only very local side dish we'd make was the super ono, Portuguese Sausage Stuffing.
Local-style Trimmings

My family always started Thanksgiving early; before the Macy's Thanksgiving Day Parade was over, I'd wake up to the smells of turkey in the oven and my Aunty Annie frying up sliced Portuguese sausage. Portuguese sausage is a breakfast favorite usually eaten with eggs and rice, but on Thanksgiving Day it is the key ingredient in our stuffing.  The sausage is fatty and spicy, kind of like the Spanish chorizo.
The Portuguese sausage gives the stuffing a salty bite, while the seasoned breadcrumbs add a savory taste and the water chestnuts, a crunch. Lots of green onion and cilantro give the stuffing loads of flavor in each mouthful.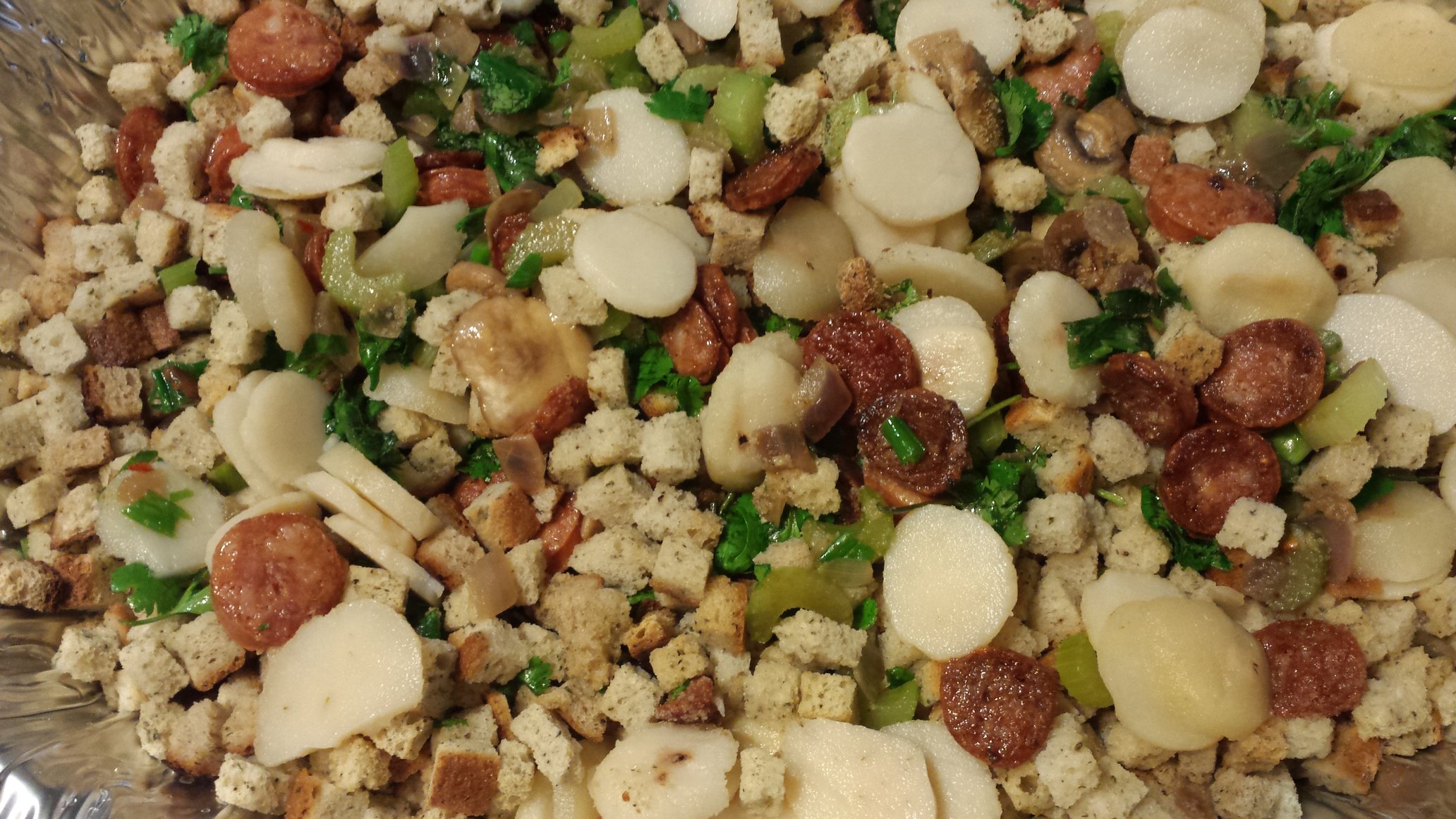 Portuguese Sausage Stuffing is always a crowd favorite
(this pic was taken right before I put the pan int he oven)
Photo by Cara Fasone

Friendsgiving Potluck Hit

When I got an invite to a friendsgiving party, I decided to make my family's Portuguese Sausage Stuffing. Not only did I want to share this Hawaiian-style stuffing with my mainland friends, but also I wanted to eat it! Everyone has their favorite Thanksgiving dish, but this is a definite crowd pleaser.

Below is my family's favorite Portuguese Sausage Stuffing recipe. I'm not sure where it came from, but it's been a tradition in our house for over 30 years and was shared between family, friends, and in-laws on index cards before there was Pinterest. 
Portuguese Sausage Stuffing Recipe
Ingredients:
2 packs of Portuguese sausage (You can buy this at any grocery store in Hawaii. On the mainland, I buy my Portuguese sausage at Marukai, it's in the frozen section with other Hawaiian specialty food.)
2 cans of sliced water chestnuts
1 package seasoned bread croutons
1 bunch Chinese parsley (cilantro), use the leafy part
1 bunch green onions, chopped
4 stalks of celery, chopped
1 round onion, diced
1 ½ cans of chicken broth, about 32 oz
1 pack of fresh sliced mushrooms
Directions:
 -Preheat oven at 350 degrees
-Slice Portuguese sausage and fry in a pan, place on a paper towel to drain oil 
-Saute mushrooms, celery, and round onion in sausage fat or butter
-Place croutons in an aluminum pan
-Add fried sausage, sautéed veggies, chopped green onion, water chestnuts and cilantro to the croutons
- Mix the ingredients together
-Pour chicken broth over stuffing mixture until it is moist
-Bake at 350 degrees for about 40 minutes or until golden brown on top, stir the mixture at about 20 minutes in.
-Enjoy! 
What are your favorite Thanksgiving Day side dishes?
Related Articles
Mele Kalikimaka, the Hawaiian Way
New Flavors of Spam Hit the Shelves

---
Return to the top of "Hawaiian-style Portuguese Sausage Stuffing Recipe"

Return to the "Local Kine Grindz" Page