Saimin Soup for the Soul 
Saimin is not just a tasty noodle soup, but a bowl of memories and stories
By Cara Fasone
My foodie friends are always searching for the best ramen spots in Los Angeles, sure I will slurp away, but no matter where we go, I still crave my childhood favorite, saimin. Saimin is another Hawaiian plantation era recipe that is a literal melting pot of cultures; a bowl of noodles that sums up Hawaii's ethnic history. Saimin, which means "thin noodle" in Chinese, most likely came about when sugar cane and pineapple laborers got together for communal meals; tossing the noodles with ingredients that the workers from around the world brought to dinner.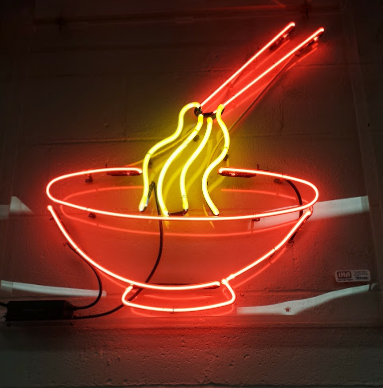 Saimin soothes the soul, my go-to on a sick day
Photo by Cara Fasone

Saimin vs Ramen
Something about the combination of chewy noodles topped with kamaboko (fishcake), char siu, a little bit of green onion, in a flavorful broth, is just one of a kind! No ramen hot spot can warm my insides like this. Saimin is the Hawaiian version of chicken soup for the soul. It is not just a tasty noodle soup, but a bowl of memories and stories that are a throwback to my childhood.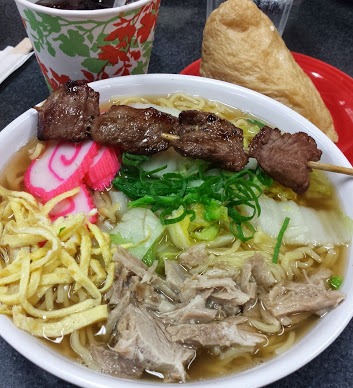 Beautiful bowl of saimin at Nori's in Hilo
Photo by Cara Fasone

Saimin Snob
Before Yelping and food photo shoots were trendy, I was a foodie. I was a fat kid and a saimin connoisseur. I'd eat all kinds of saimin: the S&S frozen kind my grandma would make at home, the take-out kind from Zippy's, the Okahara cup at the carnival. But when it came to saimin stands, I was a little picky. My aunty would take me to all the local favorites, the old school spots and mom and pop stands; Washington Saimin, Dillingham Saimin, Hall Saimin, Shiro's Saimin Haven, etc. She would always ask me my thoughts and I'd say it's good, but not the best.  
I spent my early years in town, Moiliili to be specific. My mom and my aunties were all townies; they attended Kaimuki High School across the street from the best saimin spot of all time, Sekiya's Japanese restaurant. I was a little disappointed when I moved to Mililani in the 6th grade because it meant I wouldn't be a Kaimuki bulldog and that meant I would not go to high school across from what I called the happiest place on earth. I also tried Shige's in Wahiawa, central Oahu's favorite saimin spot, and I didn't like it!

Sekiya's saimin, bbq sticks, hashballs, konbu maki and green river
Photo by Cara Fasone

Seikiya's:  the Happiest Place on Earth
My aunty got a kick out of the fact that I preferred eating saimin and barbecue sticks at Sekiya's over Disneyland (again I was a fat kid).  She would always take me there as a treat; she would tell me stories of her teenage days as I sipped on green river with crushed ice. I enjoyed looking through the glass box of okazu (side dishes), my favorite was the hash balls, tempura-fried corned beef hash. It was a perfect accompaniment to their saimin, the best in the business. Their noodles were always chewy and you could tell that they slow cook their broth for hours. Oahu has many great saimin spots, but what makes Sekiya's a stand out is their barbeque beef sticks. Their teriyaki sauce is sweet, salty, and char broiled just right. 
Palace Saimin
The only place that comes even a little close to Sekiya's in my book is Palace Saimin, a hole-in-the-wall in Kalihi. My dad's side of the family love Palace, whenever I go back I remember my paternal grandmother. I was a little skeptical when she introduced me to Palace when I was a kid, I was a bit of a saimin snob and I wasn't sure of how it compare to my favorite Sekiya's. I was happy to find that their saimin and BBQ sticks were just as good.

Fast-food Saimin
Really though, any saimin makes me happy. I loved saimin so much I would look forward to doctor's visits because that meant my maternal grandma would take me to McDonald's for a happy meal and a saimin. Yes, even McDonald's in Hawaii serves saimin. It's not Sekiya's or Palace, but sometimes their version with slices of fried egg and a piece of nori, hits the spot!
I'm not sure what McDonald's puts in their broth, but one year my dog Petey caught the parvo virus and was on his death bed, he could not swallow solid foods. My aunty gave him the shiru (broth) from the McDonald's saimin and he miraculously came back to life and lived 10 more years. Just another reason to love saimin!
McDonald's saimin saves the day
Photo by Cara Fasone

Saimin is soup for the soul. It makes you feel warm and fuzzy inside. As I go food tripping with my friends in Los Angeles, I can't help but remember my childhood saimin adventures with my family. I probably won't find Sekiya's saimin here, but half the fun is the search!
Where is your favorite saimin spot?
Related Articles
Aunty Lillian's Somen Salad Recipe
Loco Moco:  Plate Lunch Ambassador of Hawaii
---
Return to the top of "Saimin Soup for the Soul"
Return to the "Local Kine Grindz" Page