Aunty Lillian's Somen Salad Recipe
Somen salad, the cold wheat noodle dish, is perfect for potlucks and parties



By Cara Fasone
Somen salad, a refreshing wheat noodle dish, is one of the local favorites you either make yourself or hope someone will bring to the potluck. In my house, we always ate the sweet and tangy noodle salad at our New Year's Eve celebration. Although everyone has their favorite somen salad dressing, I recently made my Aunty Lilian's dressing I found in the Hawaii Plantation Cookbook and it was hands-down the best.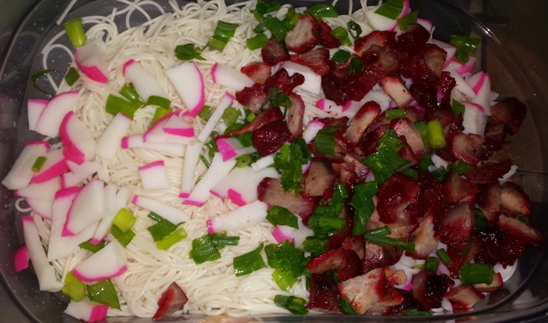 My somen salad with char-siu and kamaboko
Photo by Cara Fasone

Somen are often topped with green onion, sliced egg omelet, char siu (Chinese barbecued pork), kamaboko (fish cake), shredded lettuce and luncheon meat or Spam. Like most Hawaiian-style Japanese dishes, you have to imagine it was concocted when a group of mixed-race plantation friends with different ingredients got together for lunch. There are no real rules, just top with what you like. 
Secrets in the Sauce


The somen salad dressing, however, is key. I'm super picky about bottled Asian dressings, nothing I find really cuts it! Aunty Lillian's somen salad dressing has the perfect combination of shoyu, sugar, vinegar, sesame oil and dashinomoto (shrimp powder), with dash of Tabasco.

The ingredients for the best somen salad dressing ever!
Photo by Cara Fasone

Potluck Fave

I brought my somen salad to a party recently and my friends loved it. One of my friends even said it was the best somen salad he ever had! 
It was pretty easy to make, too. For the somen noodles, follow the boiling directions on the package. I sliced up some green onion, kamaboko and char siu I got from a local Chinese take-out restaurant.

Here is the recipe for Aunty Lillian's Somen Salad: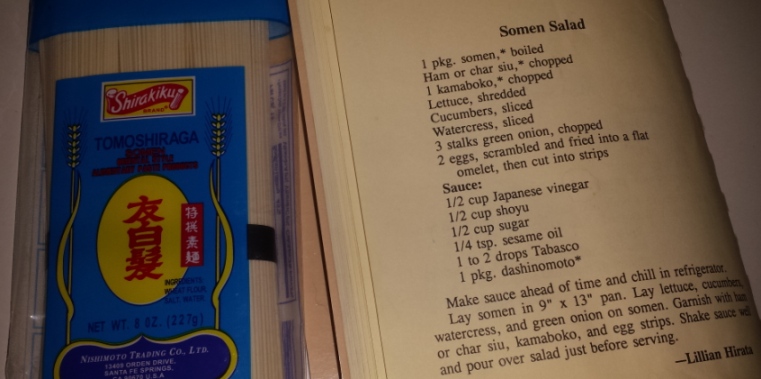 Aunty Lillian's Somen Salad recipe from the Hawaii Plantation Cookbook
Photo by Cara Fasone

What are your favorite toppings on somen salad?
Related Articles
Ringing in the New Year, Local Style

---
Return to the top of "Aunty Lillian's Somen Salad Recipe"
Return to the "Local Kine Grindz" Page