Trader Joe's and the Tradition of Omiyage

Chinese New Year is a time to celebrate Hawaii's Chinese culture
By Cara Fasone

When you travel from afar, it is custom in many places to bring back souvenirs. In Hawaii we refer to this as "omiyage," which in Japanese means souvenir. Although on the west coast and other parts of the mainland, Trader Joe's grocery is just an everyday market, to Hawaiian locals their products are a hot commodity.
Trader Joe's Got the Aloha Spirit

It's funny, Trader Joe's has a very Hawaiian vibe; they have a hibiscus flower in their logo and their managers wear aloha shirts. Ironically, I read on Pacific Business News that Trader Joe's grocery has no plans of opening a store in Hawaii because of shipping and logistics. Fortunately, mainland family and friends love to shop for omiyage at Trader Joe's and there is also a Trader Joe's grocery in Las Vegas, our second home.
I always ask my friends and family if they want anything in particular from Los Angeles when I return to the islands. Some have lists of different snacks they want from Trader Joe's, others just say anything Trader Joe's, occasionally I will get a sweet "just you," but I always bring back little something, it's tradition.
Cookie Butter Craziness

Last year Trader Joe's Cookie Butter was all the rage and it seemed that more islanders knew about it than Californians. In case you don't know what Trader Joe's Cookie Butter is, it is a creamy spread made of smashed up speculoos, thin and crispy Dutch cookies.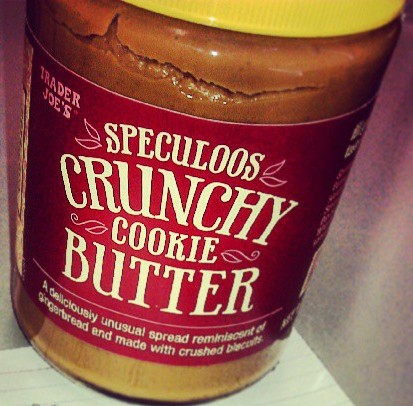 Trader Joe's Cookie Butter is amazeballs
Photo by Cara Fasone

It tastes like sugar, spice, and everything nice with an aftertaste of gingersnap and the consistency of peanut butter (it comes in creamy and crunchy). It is amazing smeared on apples, spread on toast or dolloped in oatmeal; I enjoy it simply with a spoon.

I topped my mini cheesecake with cookie butter!
Photo By Cara Fasone

I was on a mission to bring a few jars to the islands, but it was harder than expected. I went to my Trader Joe's grocery in Glendale, CA and they had a one per person limit. They decided to ration the cookie butter to prevent someone like me from cleaning their shelves.
I was told that the Silverlake location didn't have a limit, so I went to check it out, but the cashier there told me somebody would buy the case first thing in the morning.
Cookie Butter Epic Fail

I was able to collect six jars of Trader Joe's cookie butter and packed them with care in my carry-on. I made it all the way to the airport and was standing in line for the TSA checkpoint, when I saw a jar of Nutella get confiscated from a man two people ahead of me. I was nervous, but confident that Cookie Butter was not a liquid.
To my horror, Cookie Butter is considered a gel and is not allowed in carry-on bags! Instead of having them throw it away, I gave it to the Hawaiian Airlines attendant at the check-in counter downstairs, lucky bugga!
No worries local friends, Trader Joe's grocery is stocked with Cookie Butter now, in fact they also have a variation mixed with chocolate spread!
My favorite at Trader Joe's
Photo by Cara Fasone


I love Trader Joe's, so here is my list of Top 5 Trader Joe's Products for Omiyage (besides Cookie Butter): 

Thai Lime and Chili Cashews – If you love Tom Yum soup, you will love these!

Smashing S'mores – Chocolate-covered graham cracker and marshmallow bites, microwave them for 4-6 seconds, no need for a campfire!

Yogurt Stars – Cute vanilla cookies coated with fruit-flavored yogurt, good for the keiki.

Coconut Oil Spray – It's like Pam, but Coconut Oil

Soft & Juicy Dried Mandarins – Sugary and chewy, tastes exactly like the fruit. 
What are your favorite omiyage from Trader Joe's?
Related Articles
Downtown Las Vegas, the 9th Island
The Tradition of Hawaiian Leis

---
Return to the top of "Trader Joe's and the Tradition of Omiyage"
Return to the "Island Traditions" page

Back to the Hawaiian-Culture-Stories.com Home Page