Acai Bowls by the Beach
WHY , ACAI, THE BRAZILIAN BERRY IS A MUST-TRY IN HAWAII
By Cara Fasone

If you haven't had an acai bowl in Hawaii you are missing out. Although the Brazilian super fruit from the Amazon isn't a typical local kine grind, it is all the rage in the islands. Some places scoop the frozen blended berries out of a tub, while others create a smoothie bowl. I thought nothing would hit the spot more than shave ice after a sunny day at the beach, until I had an acai bowl. Don't get me wrong, shave ice syrup flows through my veins, but I'm addicted to the acai.  

I hadn't had an acai bowl until I was scrolling through a Huffington Post list, "10 Foods You Absolutely Must Try In Hawaii," when my heart sank. The minute I saw "6. Acai Bowl," I suddenly felt disconnected from my home.  I grew up with all the other local food on the list:  spam musubi, poke, (native) Hawaiian food, saimin, malasada, plate lunch, shave ice, loco moco, manapua, but I had never tried an acai bowl in Hawaii. How did I not know about this new food trend? The local girl inside me was on a mission to eat a Hawaiian acai bowl!

Diamond Head Cove Health Bar
After a day at my family's favorite south shore beach, San Souci in Waikiki, we decided to try Diamond Head Cove Bar's acai bowl. Here you can get your blended acai bowl  topped with bee pollen and pai'ai (taro). It is a little pricey at $12.50 for the Hawaiian bowl, but the bugga is ono and big enough to share!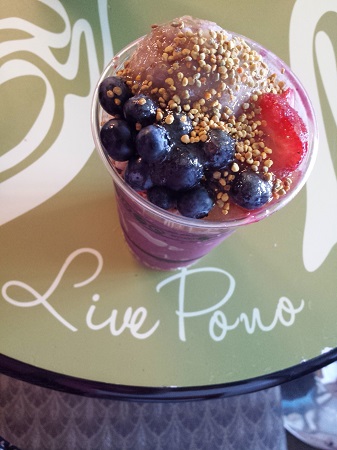 Hi Cravings Powered By Jess Da Best
I wanted to try Jess Da Best's in Kapolei after I saw some mean acai bowl porn on Instagram. My first attempt was a fail because the line was out the door! On my most recent trip to the islands, I was able to get my hands on a hapa bowl, half acai and half pitaya! Her acai bowls are topped with cookie dough, cookie butter, chocolate chips, you name it.
Lanikai Juice
We stopped in to the Haleiwa Lanikai Juice, before we hit Ali'i Beach. Their acai bowl is blended and topped with the standard granola, fresh fruit and honey. The bowl was tasty, but a little too liquidy for me. They have a nalo greens bowl that is on my list to try on my next visit.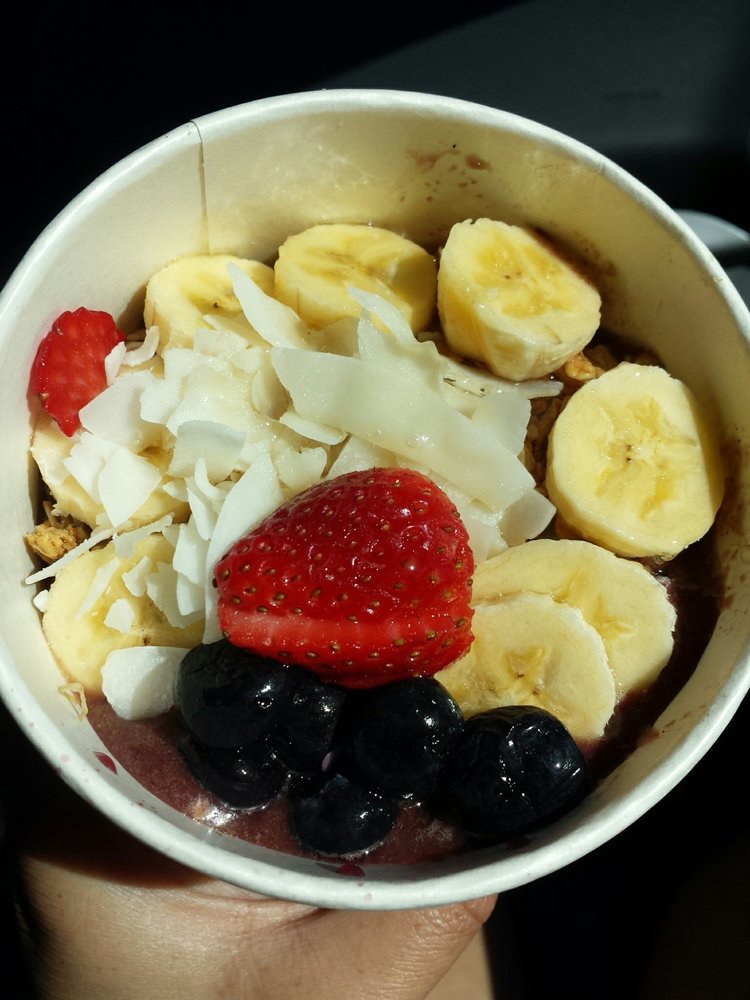 There are a few acai places in Los Angeles I like and I heard there are more in beach areas in the OC, but I have yet to find a better one than the Diamond Head Cove Health Bar's acai bowl with bee pollen and pai'ai. I'm going to have to agree with Landess Kearn's Huffington Post list, it is an absolute must try when in Hawaii.

Where are your favorite acai bowl spots in Hawaii?

Related Articles
Loco Moco:  The Plate Lunch Ambassador of Hawaii
---
Return to the top of "Acai Bowls by the Beach"
Return to the "Local Kine Grindz" Page